10,000 SPONSORS TO CELEBRATE 10 YEARS!

Show Hope Readies For Ten-Year Celebration In 2013 -
How Can You Help Reach Show Hope's Goal
Of 10,000 Sponsors?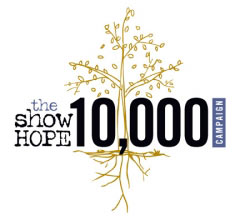 NEWS SOURCE: Merge PR
June 18, 2012
Franklin, Tenn - 18 June 2012 - Show Hope, a nonprofit founded by Steven Curtis Chapman and his wife Mary Beth, helps care for the most pressing needs of orphans around the world and is getting ready to celebrate ten years of ministry in 2013. As that milestone year approaches, the Chapmans and the entire staff of Show Hope invite you to help reach the goal of 10,000 sponsors, helping provide loving adoptive families and medical care for thousands of orphans worldwide and in the U.S.!
"We are so excited about this dream, this idea to get our Show Hope sponsorship number to 10,000, doubling our impact for orphans," explains Steven Curtis Chapman. "As we celebrate Show Hope's 10th year of ministry, Mary Beth and I invite you to stand with us and help us reach that goal so together our sponsors will meet the most pressing needs of more than 1,000 orphans every year!"
Show Hope believes the millions of waiting children around the world should not be left as orphans. To address this urgent need and holistically transform the lives of these children, Show Hope awards financial grants to help families adopt while also providing life-saving medical treatment for at-risk orphans with special needs to ensure the best possible outcome for each child.
Current Show Hope sponsors have already helped provide more than 3,200 waiting orphans with forever families through Show Hope Adoption Aid grants. Additionally, thanks to the sponsorship program, hundreds of orphans with special needs have received the medical care they so desperately needed through Show Hope Special Care Centers in China. Yet many children are still waiting, and so much remains to be done for orphans all around the world.
"Not everyone can adopt," shares Scott Hasenbalg, the Executive Director of Show Hope, "but everyone can do something. The sponsorship program allows every person the chance to be a part of the miracle of adoption, of giving loving homes to orphans in distress."
It is the Chapman's and Show Hope's dream to double their impact by reaching 10,000 sponsors in honor of their tenth anniversary. Because adoption can cost $25,000 or more, loving families who are willing to welcome in a waiting child simply cannot afford the high initial cost of adoption. Currently, the number of qualified grant applicants outpaces the ministry's ability to provide funding, so additional sponsors will have a significant impact in making it possible for more children to be welcomed into forever families. Additionally, Show Hope has been urged to open more special care centers to treat the many orphans in desperate need of medical care, and doubling the Show Hope sponsorship program would make that possible. By reaching the 10,000 sponsor goal, each year, more than 1,000 orphans' lives would be forever changed, and the lives of 10,000 waiting children would be transformed over the next ten years.
Jana Miller, a current Show Hope sponsor, shares:
My husband I have been Show Hope Sponsors for several years. We were burdened for the vast number of orphans in the world. What could WE do? Show Hope sponsorship was immediately a great fit. When our monthly donation is multiplied by thousands of other monthly sponsors' gifts, great things happen. As a busy mom of four, I may never get a chance to travel the world to care for orphans, but I know that our sponsorship does GREAT things when multiplied in the Father's hands. I love being a part of something bigger than myself. This is Kingdom work, and I am so blessed to be a part of it.
To find out more on how to help and to share with your friends, please click on the photo below to view a brief video from Steven Curtis Chapman and Geoff Moore as they share more about the Show Hope 10,000 Campaign!
About Show Hope:
A ministry founded in 2003 by Steven Curtis Chapman and his wife Mary Beth to help care for the millions of orphans around the world, Show Hope helps to provide waiting orphans with forever families by giving financial grants to adoptive families. To date, Show Hope is now an internationally recognized voice for orphan advocacy and has given more than 3,200 financial grants, affecting the lives of children from 50+ different countries, including the U.S. In addition to giving financial grants, Show Hope also empowers families, churches and communities with adoption and orphan care resources and advocacy efforts to change the world for orphans.
Show Hope, expanding its remarkable worldwide impact, also provides for orphans with special needs in China through its Special Care Centers. One of these centers is Maria's Big House of Hope, a six-story healing home facility located in Luoyang, China. Opened in the summer of 2009, its mission is to provide the highest level of care for orphans who are in desperate need of surgeries and medical attention, thus enabling the children to thrive and increase the orphans' chances of being adopted. Additional centers have opened in the Henan province of China, operating in two state-run orphanages as an extension of the care being provided at Maria's Big House of Hope.
The Chapmans were most recently recognized for their adoption advocacy by The Christian Alliance for Orphans (CAFO) who presented them with the The Defender of the Fatherless Award. The Chapmans received the award this spring before 2,000 advocates of orphan care and adoption at the Christian Alliance for Orphans' Summit VIII, held at Saddleback Church in Lake Forest, California. Each year, the Defender of the Fatherless Award honors bold and sacrificial leadership that has inspired the church and transformed children's lives. Mary Beth and Steven Curtis Chapman were recognized for the immense impact they have had in re-awakening Christians to God's call for orphan care through Show Hope.
# # #
For more info on Steven Curtis Chapman visit the JFH Artists Database.
For more info on Geoff Moore visit the JFH Artists Database.