HILLSONG'S CORNERSTONE SET TO RELEASE NEXT WEEK, JULY 3
MUSIC VIDEOS FOR "CORNERSTONE" AND "HOPE OF THE WORLD" DEBUT
ON FACEBOOK

HILLSONG LIVE CORNERSTONE TOUR SET FOR SEPTEMBER
NEWS SOURCE: Merge PR
June 29, 2012
NASHVILLE, Tenn. -June 29, 2012 -Next week, Hillsong LIVE will release their latest church release, Cornerstone, on July 03, 2012. This album will mark the 21st LIVE release from Hillsong. Hillsong LIVE is the expression of worship from the globally influential Hillsong Church. Pre-orders of Cornerstone are available now at iTunes, which already went No. 1 on the iTunes' Christian & Gospel Chart during the pre-sale.
Earlier this week, Hillsong LIVE introduced their first two music videos from Cornerstone, for "Cornerstone" and "Hope Of The World," on their Facebook page along with Vevo. "Hope Of The World" is also the debut radio single currently going for adds. Click here to watch the live performances of these inspirational songs.
Early reviews have stated that this is another needed resource for the church in today's society. Here is what media outlets are already saying about Cornerstone:
When Hillsong releases a new project, listeners pay attention. The music arm of the Hillsong Church in Sydney, Australia, has been supplying the worship soundtrack for churches around the world for the past two decades. Although it would be easy and unsurprising for the group to repeat its classic sounds of the past, Cornerstone showcases a sound that is ever-evolving for modern listeners...... ..... With a sound targeted toward younger ears, Cornerstone fits nicely among the ranks of emotional pop rock of Passion and Hillsong United. - Charisma Magazine, July issue
If you are looking for new worship songs to sing with fellow believers, this album is chock-full of congregational songs, especially "Endless Light," "Cornerstone," "Hope of the World," "Running" and "Stand In Awe." ...Cornerstone is the top overall album by Hillsong LIVE...every single song could be added to your Sunday morning worship set. - New Release Tuesday
About Cornerstone:
Cornerstone was recorded in Sydney, Australia last fall with tens of thousands in worship at filled-to-capacity Allphones Arena. It captures the heart and sound of Hillsong Church globally representing the coming together of the Hillsong worship teams from around the world including Reuben Morgan, Joel Houston and many more. This album offers fresh, new songs to congregations worldwide with a simple desire to place emphasis on Jesus and a prayer that people everywhere will be encouraged to find hope in Christ, the Cornerstone.
This new resource is filled with songs such as the title track, a new anthem "Beneath The Waters" (I Will Rise), an upbeat praise song, "Running" as well as the debut radio single "Hope of the World." Cornerstone showcases 12 brand new songs written by Reuben Morgan, Joel Houston and a great team of writers. It will be available for sale as a CD, DVD and a Physical Deluxe version that contains both the CD and DVD in one special package.
The inspiration behind the title track "Cornerstone" was birthed out of an international tragedy last summer in Norway when more than 70 innocent victims, many children, were killed. Hillsong's worship leader Reuben Morgan shares his response to this frightening shooting as he was visiting the Scandinavian Peninsula.
"When you write songs that people sing as part of their worship to God there is a bit of your soul that shares the aches of those around you. When there is tragedy, the song of lament wakes up with you, and when there is joy, the sound of praise fills your ears. To some it might seem really odd to reach for a guitar when tears are falling on scuffed up shoes, but I really don't know any other way of being."
While the title track may have been inspired at that moment, Morgan says the message is even bigger, posing a question for every citizen of the world to answer: Who or what do we turn towards for our strength? This album, like all of Hillsong's projects, is more than a group of songs, it is a profound message that builds faith, stirs the soul and asks and answers the big questions.
"We only just have the time to forget the face of the gunman when another chorus of sirens wail," explains Morgan. "We have barely cleaned up after the flood when an earthquake strikes. When the earth shakes, we look to our feet and wonder what it is that we are standing on. Christ is the Cornerstone - it is Him that is the anchor."
Hillsong LIVE will be coming back to the U.S. to tour Cornerstone beginning in September. The Hillsong LIVE Cornerstone Tour will begin September 12th in Boston, MA. Tickets go on sale for the 12-city tour on July 20th. For more information visit http://www.premierproductions.com/. Dates listed below.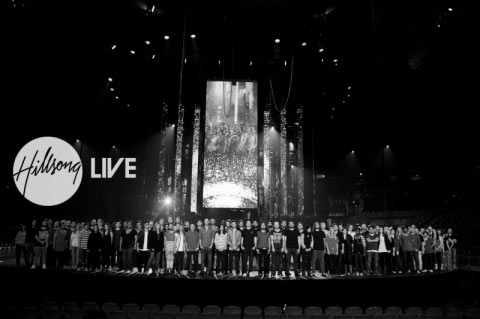 About Hillsong LIVE:
Hillsong LIVE is the congregational expression of worship from Hillsong Church - a local church with global influence. Their music captures the heart and sound of Hillsong Church globally and represents the coming together of the Hillsong worship team from around the world; including Reuben Morgan, Joel Houston and many more. Since 1992, Hillsong LIVE has resourced the local church and received gold and platinum album status multiple times, writing such well known worship songs as "Shout To The Lord", "Inside Out", "Hosanna", "The Stand" and "Mighty to Save," which was awarded the 2009 Dove for Worship Song of the Year. The Hillsong brands have sold more than 11 million albums.
About Hillsong Church:
In August 1983, Brian and Bobbie Houston founded the Hills Christian Life Centre in the Hills District of Sydney, Australia. It has grown from a congregation of 45 to what is said to be the largest local church in Australian history. It has now expanded to be a global church with local expressions in significant cities; with churches in Australia, London, New York, Paris, Cape Town, Stockholm, Germany, Kiev, Amsterdam and Copenhagen. Each week, tens of thousands of people across the globe call Hillsong Church 'home' and the reach, impact and influence of this local congregation is seen across many nations.
Hillsong LIVE Cornerstone Tour
9/12 - Boston, MA Agganis Arena
9/13 - Baltimore, MD 1st Mariner Arena
9/14 - Cincinnati, OH Bank of Kentucky Center
9/15 - Charlotte, NC Bojangles' Coliseum
9/17 - Memphis, TN Bellevue Baptist Church
9/18 - Birmingham, AL Boutwell Municipal Auditorium
9/20 - Austin, TX Cedar Park Center
9/21 - San Antonio, TX Freeman Coliseum
9/22 - Tulsa, OK BOK Center
9/23 - Wichita, KS Intrust Bank Arena
9/24 - Kansas City, MO Independence Events Center
9/25 - Denver, CO Wells Fargo Theatre
Connect with Hillsong LIVE
https://www.facebook.com/HillsongLive
https://twitter.com/hillsonglive
http://live.hillsong.com/