EMI CMG PUBLISHING SIGNS MULTI-AWARD WINNING SONGWRITER
GERALD CRABB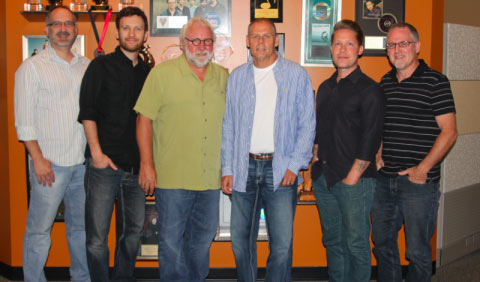 L to R: Casey McGinty (Sr. VP, EMI CMG Publishing) Matt Ewald (Creative Director, EMI CMG Publishing) Eddie DeGarmo (President, EMI CMG Publishing) Gerald Crabb, Jeremy Ash (Creative Director, EMI CMG Publishing) Jimi Williams (Director of Worship Resources, EMI CMG Publishing)
NEWS SOURCE: Merge PR
July 9, 2012
NASHVILLE, Tenn -July 09, 2012 -EMI CMG Publishing has signed multi-award winning songwriter Gerald Crabb to their revered roster. As a distinguished musician, Crabb has produced over 400 written songs, 22 of which have become national No. 1 songs. Though still committed to the Southern Gospel genre that he has helped to define for decades, Crabb has developed a new passion for Country songwriting in recent years. While EMI CMG Publishing is a clear industry leader among Christian music publishers, their recent expansion into the Country genre has generated two Billboard year-end Top 100 Country singles in 2011 ("Love Don't Run," "Didn't I",) as well as the current Top 30 Country hit "Hard to Love" performed by Lee Brice. EMI CMG Publishing looks forward to their multi-faceted new partnership with Crabb.
"Gerald is a fantastic songwriter and a true leader in our industry," says EMI CMG Publishing President Eddie DeGarmo. "We are excited to facilitate his entre into Country songwriting, and to continue to support his contributions to the Southern Gospel world. There's no doubt this man has a gift and his songs will continue to move and inspire fans of multiple genres. We jumped at the chance to work with Gerald, and we're very optimistic about our future together."
Crabb has been writing songs for more than 25 years. He first became hooked on Southern Gospel music at age 16 and has never looked back. Few artists and songwriters have influenced the genre as profoundly as Crabb. One or more of his songs held the No. 1 spot on the national Southern Gospel chart for 37 months out of a 107-month period between 1998 and 2006.
"The day that I walked into EMI CMG Publishing and had a great visit with both Eddie DeGarmo and Jeremy Ash, I just knew that was where I should be," shares Crabb. "What an honor it is to be with a leading music publishing company. I am looking forward to many songs and many years together."
During his long and successful career, Crabb has earned several BMI awards, including Songwriter of the Year, and has had cuts on GRAMMY-Award winning albums, Glory Train by Randy Travis and his son's self-titled album, Jason Crabb. Along with multiple BMI and Dove Awards under his belt, he has been selected by the Gospel Music Association to perform at the GMA Songwriter's Showcase for nine consecutive years and won the Dove Award for Songwriter of the Year and Song of the Year in 2011 for his hit song "Sometimes I Cry."
About EMI CMG Publishing:
As a full-service publisher, EMI CMG Publishing represents more than 35,000 songs, hundreds of copyright catalogs and over 300 writers, including Chris Tomlin, Jeremy Camp, Ben Glover, Smokie Norful, Steven Curtis Chapman, Leeland, Myron Butler, Rush of Fools and Thousand Foot Krutch, to name a few. EMI CMG Publishing also administers catalogs for top-selling artist/writers such as TobyMac, Casting Crowns, Third Day and Kirk Franklin. It is the current BMI, ASCAP and Billboard Christian Music Publisher of the year. Its mission is to impact modern culture with the timeless relevance of Christ through its diverse roster of writers and songs. EMI CMG Publishing places music in major Film, Television and Video Game projects, providing far-reaching exposure for our songwriters and their music. Highlights include uses in projects such as: Twilight, National Treasure, Hancock, Dreamer, American Idol, Scrubs, One Tree Hill, ESPN SportsCenter, Cold Case, Brothers & Sisters, Friday Night Lights, Guitar Hero, Rock Band 2, Burnout Revenge, Arena Football and Nascar 2009. http://emicmgpublishing.com/
About Gerald Crabb:
Born and raised in Kentucky, Gerald Crabb developed a passion and talent for music at the young age of five. By 11, Crabb was playing guitar and to this day has written over 400 songs, earning 22 national No. 1 songs. He has appeared on the Gaither Videos, TBN, The 700 Club, the INSP, CMT and GAC. In addition, Crabb has performed at Carnegie Hall, The Grand Ole Opry, The Ryman Auditorium, Red Rocks Colorado, and The Brooklyn Tabernacle. Among many artists to record his music are Randy Travis, Marie Osmond, Marty Raybon, Larry Sparks, Jason Crabb, The Gaither Vocal Band, Amy Perry (of Selah), The Brooklyn Tabernacle Choir, Donny McClurkin and The Crabb Family, which he founded in 1994. His song "Through the Fire" was featured on GRAMMY-Award winning albums, Glory Train by Randy Travis and his son's self-titled album, Jason Crabb.
# # #