NICOLE JOHNSON AND NICHOLE NORDEMAN COMBINE TALENTS TO CREATE SEASONS WEEKEND EVENTS
SEASONS WEEKEND Launches July 13-15 In Los Angeles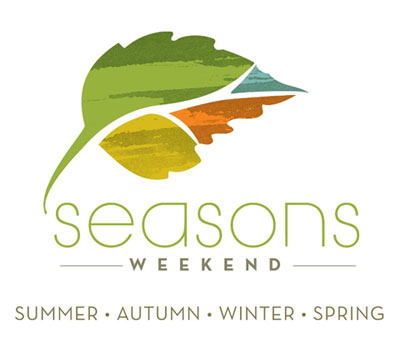 NEWS SOURCE: TKO Marketing
July 9, 2012
(Nashville, Tenn.) July 9, 2012 - Gifted author and dramatist Nicole Johnson combines talents with award-winning Christian singer/songwriter Nichole Nordeman to produce Seasons Weekend bringing rejuvenating weekend experiences to people thirsty for a deeper connection with God. Reflecting the seasons of life, the duo has honed their gifts and talents with their friends to create weekend experiences in summer, autumn, winter and spring.
An entirely new experiential concept, "Seasons Weekend is an invitation to be renewed and refreshed as you come to know and be known by God through the avenues of beauty, reflection, scripture, music and drama," said Johnson. "This weekend experience is for thirsty souls of every age."
"Collectively, we have been to a lot of events over the last decade. There was a sense that 'We've done high and wide, so let's go for deep,'" said Johnson. "We scaled it down for intimacy, simplified it for depth and sought to create space rather than fill it."
In contrast to a large arena event, Seasons Weekend provides a relaxed, intimate environment set in beautiful destinations at the peak of each season. Described as a "retreat with a high thread count," Seasons Weekend is hosted in well-appointed hotels presenting the perfect backdrop for a time of rest and spiritual reconnection as well as an appealing getaway to a group who may not be drawn to a typical Christian conference.
Four Seasons Weekend events are planned throughout the year. Each weekend features a variety of activities such as spiritual renewal through the arts, music by Nordeman, drama by Johnson, times of personal reflection led by Dr. Curt Thompson. Special friends Jay and Katherine Wolf will be an integral part of the experience as they share their powerful and poignant story of hope following Katherine's brain stem stroke. Blocks of time are carved out for creative elective activities such as a study in songwriting with Nordeman, or an acting workshop with Johnson. Opportunities for shopping, site-seeing, reading and journaling will also be built into the schedule during the weekend.
Seasons Weekend offers attendees a rare opportunity to be more than spectators in an audience; instead they are included as participants in an experience. The platform was created to allow the team and its guests the freedom to journey farther and deeper together as they explore the unique seasons of life and faith.
Johnson best describes the heart and hospitality of Seasons Weekend. "We are setting a table with the best of what we have, calling out to the hungry and thirsty, the tired and broken: 'Join us, we've pulled out your chair.'"
Tickets are on sale now for Seasons Weekend dates.
Season Date City/State Location Summer July 13-15, 2012 Los Angeles, CA Hyatt Regency Century Plaza
For tickets: http://www.ticketderby.com/event/seasons-weekend-summer-id-7385
Autumn October 12-14, 2012 Cincinnati, OH Hyatt Regency Cincinnati
For tickets: http://www.ticketderby.com/event/seasons-weekendautumn-id-7574
Winter January 18-20, 2013 Colorado Springs, CO The Broadmoor Hotel
For tickets: http://www.ticketderby.com/event/seasons-weekend-winter-id-7652
Spring April 12-14, 2013 Washington, D.C. Grand Hyatt Washington D.C.
For tickets: http://www.ticketderby.com/event/seasons-weekend-spring-id-7840
For more information on Seasons Weekend, please visit www.seasonsweekend.com.
Follow on @seasonsweekend on Twitter.
ABOUT THE SPEAKERS:
Nicole Johnson: A bestselling author, performer, and motivational speaker, Nicole Johnson has been making audiences laugh and cry for over 25 years. With humor, compassion and wisdom, Nicole communicates using her unique blend of drama and speaking skills. She addresses issues drawn from the comedic struggles of our daily lives to the deeper questions that arise from our personal tragedies. Whether she is performing one of her original sketches on motherhood or breast cancer or sharing simple lessons from her own life, Nicole leaves each cup filled with a Fresh-Brewed perspective that brings Hope to the Daily Grind. Nicole lives in Santa Monica, CA with her husband Roy, and their two children.
Nichole Nordeman: Nichole Nordeman is a songwriter, singer, and musician with the unique gift of weaving the outward experiences of life and the quiet parts of the soul into songs that resonate with audiences around the world. Stories, questions, mysteries, doubts, weakness, courage, sorrows, revelation and truth-haunting melodies, gorgeous hooks and Nichole's lilting voice-this is the substance, the introspection and intelligence that make her a stand out among Christian artists. Nichole has won multiple GMA Dove Awards, including two awards for Female Vocalist of the Year. A few of her most popular songs include "Holy", "Legacy" and "I Am." In April 2012, Nichole received the 2012 GMA Dove award for "Special Event Album of the Year" for her masterful songwriting of the album "The Story". Moving from Dallas, TX a few years ago, Nichole and her family now reside in Tulsa, OK.
Curt Thompson: Curt Thompson, M.D., is a psychiatrist in private practice in Falls Church, Virginia. In addition to treating adults, adolescents and families, Curt has gained expertise in the emerging field of interpersonal neurobiology. Out of this research and study Curt authored his first book, Anatomy of the Soul. In this import and astute work, he reveals how insights from interpersonal neurobiology resonate with biblical truths about God and creation-validating the deep human need for meaningful relationships as a key to a life of hope and transformation. Curt and his wife, Phyllis, are the parents of two children and reside in Arlington, VA.
Jay Wolf: Jay Wolf is an attorney by trade but an artist at heart. In addition to being a husband and father, he's also the son of a Southern Baptist preacher. Jay grew up in both Washington, D.C. and Montgomery, AL, to which he attributes his "appreciation for metropolitan culture and Southern charm." Graduating from Samford University, the couple moved west and Jay pursued a Law Degree in California. He graduated Pepperdine Law School three weeks after Katherine's stroke, and is a member of the California Bar Association. Following Katherine's stroke, Jay set aside practicing law to care for his wife, which has enabled him to explore more deeply some other interests and talents in design, art, and music. He writes of his creative adventures in the continuing story of his life with Katherine and James, on their blog, Hope Heals.
Katherine Wolf: Katherine Wolf is a wife, mother, communicator, and survivor of a near-fatal brain stem stroke. Born and raised in the deep South, Katherine had an early passion for sharing her hope in the Lord, never imagining how her survival would tell that story years later. After marrying Jay, her college sweetheart, they moved to Los Angeles to pursue a career in the entertainment industry. Katherine and Jay began to serve at Bel Air Presbyterian Church, leading the Marrieds Group, planning the women's retreat, and leading a couple's small group. Their son James was born in 2007 and six months later, Katherine's life nearly ended with a catastrophic stroke. Miraculously she survived and continues her recovery to this day. Katherine shares her story and on-going progress on her blog, Hope Heals. Katherine, Jay, and James reside in Culver City, California. www.hope-heals.com
For more info on Nichole Nordeman visit the JFH Artists Database.
# # #