"PROOF OF YOUR LOVE TOUR" EVOKES EXCITEMENT OF HEADLINING THREE OF CONTEMPORARY CHRISTIAN MUSIC'S FASTEST RISING YOUNG ARTISTS
for King & Country, Jason Castro, & Dara Maclean Join Forces
For Fall Concerts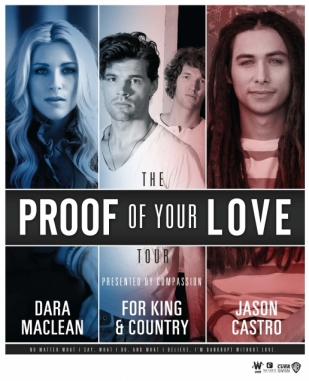 NEWS SOURCE: MorningStar PR
July 11, 2012
(Nashville, Tennessee) -July 11, 2012- For the legions of music fans supporting their downloads and boosting their recognition value to the ranks of three of the fastest breaking new artists in Contemporary Christian music, this fall's "Proof Of Your Love Tour" co-billing of for King & Country, Jason Castro, and Dara Maclean offers the promise to concert-goers of validating just what all the excitement is about.
The concert scheduling will run September through November with a planned routing of 30 U.S. markets. "The tour has been met with a lot of excitement from radio and churches," notes Jeff Roberts, President of Jeff Robert & Associates, responsible agency for booking the event. "It promises to be a wonderful evening of ministry with three of the most exciting new artists to release this year."
The "Proof Of Your Love Tour" is being presented in partnership with Compassion International. Compassion exists as a Christian child advocacy ministry that releases children from spiritual, economic, social and physical poverty and enables them to become responsible, fulfilled Christian adults. Today, Compassion aids more than 1.2 million children in 26 countries around the world.
The tour is expected to benefit from the anticipated strong summertime momentum of its' namesake-- for King & Country's latest single release-Proof Of Your Love. The song, which in June hit the Top 5 on iTunes upon release of a special re-mixed version, posted an equally fast jump to #19 on Billboard's Christian Songs chart. It ranks at #15 nationally this week on the Billboard listing.
The duo's debut album for Fervent, Crave released in February 2012 to immediate industry praise and major connectivity with Christian radio for their launch single "Busted Heart." Reaction to the music of Australian born brothers Joel and Luke found Billboard giving them an early year nod among the Top 20 New Artists of 2012. Tracks from the project have to date been featured on the CW series The Vampire Diaries and Lifetime Network's Drop Dead Diva. Commenting on the debut of for King & Country, Entertainment Tonight's The Insider.com noted that "they make music that speaks directly to the heart…gaining popularity in the all-rock genre."American Songwriter was equally impressed, commenting on brothers Joel and Luke, who now make their home in the U.S.: "for King & Country may just be Australia's answer to Coldplay."
Early inklings of what was to come for their creative pairing also emerged on the fall/winter staging of Winter Jam 2012. The brothers proved consistently to elicit one of the strongest audience responses on the tour, emerging with a solid fan base for their music. Noted promoter Roy Morgan of Premier Productions: "Our audience embraced for King & Country whole-heartedly and they won the hearts of tens of thousands of Winter Jam fans. They are to be reckoned with in the future. Their humility and passion to serve Christ will catapult their career."
"This will be a tour of creativity and connection, art and heart, music and mission," notes Joel. "United by a common passion, Maclean and Castro will join us in intimately presenting a night of music with a message. The opportunity to collaborate with two artists whom we both trust and admire strengthens our hope of effectively communicating a call to action." .
Internationally-renowned as a singer-songwriter, Jason Castro has topped radio charts in multiple countries, including: Norway, Singapore and the Philippines. His self-titled debut album entered the Billboard Top 200 Album chart at No. 18. Throughout his career, Jason has appeared on television shows such as TODAY, The Ellen DeGeneres Show, Access Hollywood, The Bold and the Beautiful, and The Bachelor and has appeared on the pages of Rolling Stone, USA Today and The New York Times. Jason's second studio album will be released in early 2013. His latest single, Only A Mountain is currently reaching radio.
Of the upcoming tour, he notes: "It's going to be an amazing musical adventure. Joel, Luke and Dara Maclean are truly some of my favorite people-I'm excited to spend multiple weeks with them while hanging out with our wonderful fan,"
Finding immediate focus in the national lens with the success of her debut single, Suitcases, Fervent artist Dara Maclean is showing the continued uniqueness of her talent and the depth of her beauty as a creative energy with her debut album project, You Got My Attention. With the break of Suitcases into the Top 20, she has indeed gotten the attention of the music industry and Christian radio at large as a major new female artist with a bold creative signature. A singer of incredible grace, power and control, as well as a gifted songwriter, Dara combines elevating vocals and intelligently uplifting lyrics with a tremendous passion for ministry.
Looking forward to the upcoming tour Dara notes, "It's an honor to do ministry with friends that feel like brothers to me-and who I believe in wholeheartedly. Collectively, we want to pour out to each individual that comes to the concerts. It will be that kind of tour and I'm thankful to be a part of it."
# # #
For more info on Dara Maclean visit the JFH Artists Database.
For more info on for King & Country visit the JFH Artists Database.
For more info on Jason Castro visit the JFH Artists Database.