JENNY & TYLER APPEAR ON GOOD DAY DALLAS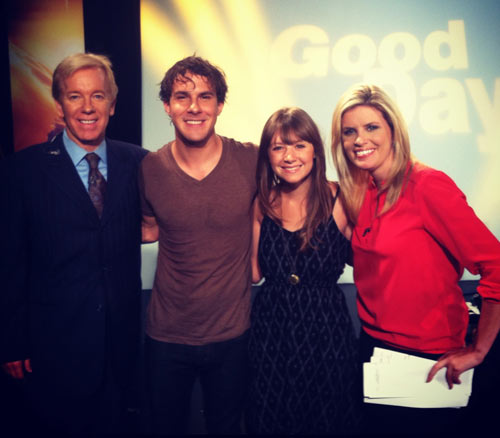 (l-r) Good Day Dallas' Dan Godwin; Tyler & Jenny Somers;
and Good Day Dallas' Lauren Przybyl.
NEWS SOURCE: Turning Point PR
July 17, 2012
DALLAS- Folk/pop singer/songwriters Jenny & Tyler recently appeared on FOX 4's Good Day Dallas to perform "Little Balloon," the lead track from their critically-acclaimed recording, Open Your Doors. Pictured on the set are (l-r) Dan Godwin, Good Day Dallas; Tyler & Jenny Somers; and Good Day Dallas' Lauren Przybyl.
Produced by Mitch Dane (Jars of Clay, Bebo Norman), Open Your Doors released earlier this spring and features 10 selections written or co-penned by Jenny & Tyler, along with two instrumental offerings. In an exclusive iTunes promotion, the album is currently available for $3.99 through Wednesday, July 18.
The couple met as students at the University of Delaware where they began leading worship and writing songs together. Since their marriage in 2007, Jenny & Tyler have performed around the country in colleges, churches and homes, and have toured with such acclaimed artists as Sara Groves and Audrey Assad, among others. Open Your Doors is the duo's fourth full-length recording. Their previous projects include Faint Not; Love Came Down: Christmas EP; This Isn't a Dream; and A Prelude. Jenny & Tyler support the work of International Justice Mission (IJM) to fight human trafficking.
To view Jenny & Tyler's performance of "Little Balloon" on Good Day Dallas: http://www.myfoxdfw.com/video?autoStart=true&topVideoCatNo=default&clipId=7495358.
For further information, visit www.jennyandtylermusic.com
# # #