MercyMe Unveils "The Making of The Hurt & The Healer" short film at MercyMe.org this week
To be released on iTunes® this fall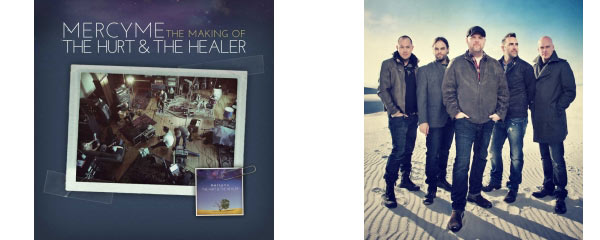 NEWS SOURCE: The M Collective
July 18, 2012
Nashville, TN....June 18, 2012... Following their month-long domination at No. 1 on the Christian AC radio chart with the title track from their best-selling CD The Hurt & The Healer, the multi-platinum, Grammy-nominated, American Music Award and multiple GMA Dove Award winning band MercyMe has delivered The Making of The Hurt & The Healer short film. MercyMe unveils it at MercyMe.org this week, where for a limited time it will be available direct to fans first for $5. This fall it will be available through iTunes®.
With a total running time of just over 30 minutes, The Making of The Hurt & The Healer includes high definition video filmed in the recording studio and on the road over the course of eight months. In addition to live perfmormances of "The Hurt & The Healer" and "You are I Am," the film features footage from the studio, bloopers, interviews with the guys telling stories behind the songs, and an overall, true behind-the-scenes look at the beginning to end creation of The Hurt & The Healer. Click here to view the trailer.
As MercyMe visits markets across the country throughout the summer, FairTrade will release the next single, "You Are I Am," on August 17th, the follow-up to their No. 1 hit, "The Hurt & The Healer."
[Get Connected with MercyMe]
Website - http://mercyme.org
Twitter- @mercyme
Facebook - https://www.facebook.com/mercyme
YouTube - http://www.youtube.com/user/mercymevideo "The Hurt & The Healer" music video
About MercyMe
Since their debut in 2001, Grammy-nominated, American Music Award and multiple GMA Dove Award winners MercyMe have sold over 6 million units in CD and DVD sales, while being one of few Contemporary Christian music groups to have had all of their recordings certified Gold or Platinum, as well as garner 23 No.1 multi-format Christian radio singles, and four consecutive mainstream radio hits with "I Can Only Imagine," (No. 4 AC/top 25 on Top 40/Hot AC), "Here With Me" (No. 4 AC), "Homesick" (top 10 AC), and "So Long Self." In 2009, BILLBOARD named MercyMe's "Word Of God Speak" the #1 Song of The Decade and the group the #1 Christian Songs Artist of the Decade, with an additional #1 as the Christian AC Song Artist of The Decade as one of the industry's most notable talents. MercyMe made history as "I Can Only Imagine" surpassed 1 million digital downloads, making it the first song in Christian music to go platinum in the digital domain. The multi-platinum selling band has sold out venues including Radio City Music Hall and has been seen on The Tonight Show, CNN, Fox New Channel's Fox & Friends, ABC News, CBS's The Early Show, and on the pages of Entertainment Weekly, The New York Times, USA Today, Billboard, and more.
# # #
For more info on MercyMe visit the JFH Artists Database.