'OCTOBER BABY' NOVEL-FROM
THE HIT FILM-IN STORES SEPT. 1
CNN Ranks 'October Baby' Among '15 Most Impressive
Box Office Performances' for 2012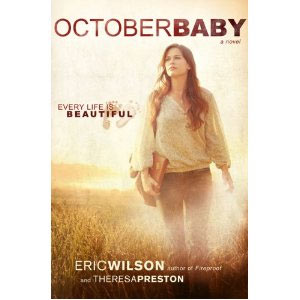 NEWS SOURCE: Lovell / Fairchild Communications
July 18, 2012
NASHVILLE - July 18, 2012 - OCTOBER BABY, a limited-release indie film, surprised moviegoers and critics alike when, against stiff competition, it opened this February at No. 8 at the box office. The film's sensitive story about the value of life-wrapped in humor, romance and drama-earned it a spot among CNN's 15 Most Impressive Box Office Performances for 2012.
Now, on Sept. 1 from B&H Publishing Group, comes the hit film's novelization (Amazon.com). Fans will be eager to know that October Baby the novel delves deeply into characters' backgrounds, taking readers on an extended journey through their lives, and still packs the movie's emotional punch and entertainment.
"In October Baby the novel fans and newcomers get the same charm, the same uplifting story, with a whole lot more," B&H Acquisition Editor Julie Gwinn said. "The deeper journey with these characters moves closer to the tagline for both book and film: 'Every Life Is Beautiful.'"
October Baby is written by New York Times best-selling author Eric Wilson and the film's co-writer Theresa Preston. Wilson is well known to Christian fiction readers for his novelization of the hit films from the Kendrick brothers, Fireproof, Facing the Giants and Flywheel. He also writes original novels at the intersection of the spiritual and physical worlds. For first-time screenwriter Preston, October Baby extended her passion to create stories that move and inspire.
October Baby is the inspiring story of Hannah, a college student whose rising anxiety and sudden physical collapse uncover surprising news about her birth. Hannah learns from her parents that she was adopted, having survived a failed abortion attempt. Bewildered and angry, Hannah turns to her oldest friend, Jason. Encouraged by his adventurous spirit, she joins his friends on a road trip, now her journey to find her hidden past and hope for the future. Along the way, Hannah finds that every life is beautiful, and that life can be far more than anything we plan.
The film that inspired the book made it to CNN's Impressive Box Office list alongside megahits such at THE AVENGERS and THE HUNGER GAMES. CNN said, "The film surprised analysts with an eighth-place finish in its debut weekend, after earning $1.7 million from 390 theaters. . . . what makes OCTOBER BABY's run so impressive is that it reached that level with minimal media attention and no buzz in New York or Los Angeles, where many indies thrive."
October Baby is a trade paperback book; it will be available at Christian retailers nationwide and online. Suggested list price is $15.99.
To learn more, visit: BHPublishingGroup.com
# # #