Flyleaf Debut Title Track From Forthcoming New Album, "New Horizons"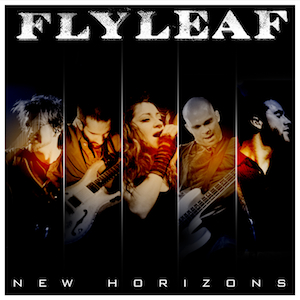 NEWS SOURCE: Loudwire / JFH
August 2, 2012
It's new horizons indeed for rock band Flyleaf. It's been almost three years since they released their last studio effort, Memento Mori, and the band is readying the release of New Horizons this fall. A quick listen to the title track, which debuted this week on Loudwire.com, will reveal a new, lighter rock sound for the band.
Check out this excerpt from Loudwire's article about Flyleaf and the new song (written by Spencer Kaufman):

Lyrically, the song takes an uplifting tone right from the opening line, "So you're tired but you're alive / So open up your eyes / And you can your sleep when you are dead."

Bassist Pat Seals describes the tune as follows: "'New Horizons' expresses a feeling of looking toward the unknown future with hope. Definitely one of our best and most joyful songs – I am excited to see how our fans will receive it."

Flyleaf's album 'New Horizons' is set to arrive in the fall, with the title track hitting iTunes on Aug. 21.
Visit Loudwire.com now to hear the new song!
For more info on Flyleaf visit the JFH Artists Database.