BRANDON HEATH ANNOUNCES THE
24-CITY "BLUE MOUNTAIN TOUR" THIS FALL
Tour Presented by Food for the Hungry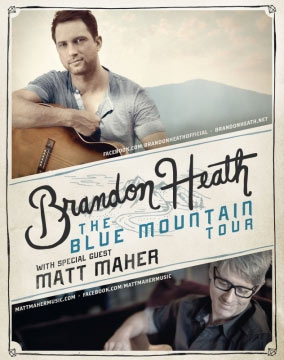 NEWS SOURCE: Provident Music Group
August 9, 2012
(Nashville, Tenn.) August 9, 2012-Award-winning artist and songwriter Brandon Heath announces the 24-city "Blue Mountain Tour," named for his forthcoming studio project, Blue Mountain, due out Oct. 9. Heath is joined by label mate - celebrated singer, songwriter and worship leader - Matt Maher on all dates; the tour is presented by Food for the Hungry.
Kicking off October 11 in Milwaukee, Wis., the "Blue Mountain Tour" will visit cities including Chicago, Knoxville, Indianapolis and St. Louis. A night of rich musical layers, fans can expect to hear Heath's hits ("Give Me Your Eyes," "I'm Not Who I Was" and "Your Love") as well as songs from his fourth full-length studio album, Blue Mountain. The forthcoming 12-track project merges modern music-making and ancient tones, taking listeners on a musical journey full of heart and back-porch ease via Heath's signature storytelling.
"Similar to the new album, this tour invites the listener to a special experience to come on up to 'Blue Mountain,' a fictional place where this music was created," says Heath.
Heath shares the stage with Essential Records' Matt Maher, known for worship staples like "Your Grace Is Enough," "Christ Is Risen" and the radio hit "Hold Us Together." Also part of the night, audiences will meet the talented spoken-word poet Micah Bournes and new independent sibling acoustic act, The Church Sisters. Heath will continue highlighting the work of Food for the Hungry on tour, specifically its efforts in the villages of Kitgum, Uganda. These are communities in which Brandon Heath's audiences have wholly sustained the child sponsorship program.
"I'm thrilled to see and participate in this next level of Brandon's touring career. From the first time I heard his music, I was hooked by the storytelling set to great melody," shares Bryan Myers, talent agent, CAA. "This new CD is storytelling taken to the mountains...Blue Mountain. A look inside all of us and what our Redeemer sees underneath the dirt and grime and His beauty that lies inside."
Tour promoters concur, "We're thrilled to be a part of the 'Blue Mountain Tour' here in Texas this Fall. We are equally excited about this next chapter in Brandon's career. His latest single "Jesus in Disguise" is pure brilliance and Christian radio fans are sure to embrace it," offers Greg Carnes, Greg Carnes Productions.
"This tour is full of familiar songs and faces, with music reflecting life-changing truth," shares Heath. "Plus, it's all got a new sound, some new faces and a few surprises. We've got great things planned, I think you're going to love it, so come on up to Blue Mountain."
A tour itinerary follows this release. For tour updates, visit www.brandonheath.net/tour.
About Brandon Heath
Since Brandon Heath's debut on Reunion Records with Don't Get Comfortable (2006), he has become one of Christian music's most beloved and respected artists and songwriters.
Heath has twice been honored as GMA Male Vocalist of the Year (2009 and 2010), additionally garnering an Emmy Award, five GRAMMY nominations, an American Music Award nomination and multiple GMA Dove Awards and songwriting honors.
His award-winning songs and signature vocals reflect a soaring radio career that includes four No. 1 hits: "I'm Not Who I Was," "Wait and See," the 2009 GMA Dove Award-winning Song of the Year, "Give Me Your Eyes," and the eight-week chart topper, "Your Love."
Heath, a Nashville native, first began writing at age 13 and credits his hometown's legendary hotspot for songwriters, the Bluebird Café, as the place he first experienced music that moved him. His artistry and ability to connect with audiences have compelled countless media outlets across the nation to platform his story and music. Highlights include Billboard magazine, "CBS Evening News with Katie Couric," Relevant magazine, a 2011 feature by the Wall Street Journal and selection as a presenter during the 54th Annual GRAMMY Awards.
Other key spotlights include Discovery Channel's "On The Case With Paula Zahn," which highlighted "Give Me Your Eyes" (What If We 8/19/2008), and a feature by The New York Times Sunday edition, touting Heath as a GRAMMY-nominated newcomer "that shouldn't be allowed to slip through the cracks."
Heath's third album, Leaving Eden (1/18/2011) debuted No. 1 on the Billboard Christian Sales chart and is supported by non-stop direct-support and headlining tours. Blue Mountain will be available everywhere on October 9, 2012.
For more information on Brandon Heath, please visit: www.brandonheath.net and follow Brandon Heath's Twitter at www.twitter.com/brandonheath.
About Matt Maher
Matt Maher -singer/songwriter/worship leader and recording artist - has embraced his calling as a "musical missionary" to impact a global stage. Maher is well known for writing moving worship anthems including "Your Grace Is Enough," "As It Is In Heaven," "Hold Us Together," "Christ Is Risen," "I Will Rise," "All To Us," and "Here For You." His songs continue to grow in popularity on the CCLI chart, marking their popularity in church services worldwide, while also being recorded by artists including Chris Tomlin, Audrey Assad, Matt Redman, and the Passion movement. Additionally "Alive Again" was selected by iTunes as the best Christian & Gospel song of 2009. Such popularity has prompted more than 350,000 career sales. National media exposure includes the covers of Breakaway and Christian Single, a live performance on "FOX & Friends," and guest writer for Billboard magazine.
Maher sits on the board of directors for the Catholic youth organization, Life Teen, and is a staple writer with EMI CMG Publishing. Amid busy touring and writing schedules, he hosts WorshipTogether's "New Song Café" and is an active, bylined contributor to The Washington Post's "On Faith" section http://www.washingtonpost.com/blogs/on-faith), an interactive conversation on religion.
His latest project, The Love In Between, released Sept. 20, 2011. The album debuted at No. 7 on the SoundScan Top Contemporary Christian Chart and graced the Billboard 200 at No. 97. The Love In Between additionally experienced notable success at iTunes, breaking into the Top 5 on the Christian & Gospel Top Albums Chart.
For more information on Matt Maher, visit www.mattmahermusic.com. Also follow Matt on Twitter at www.twitter.com/mattmahermusic.
About Food for the Hungry
Since 1971, Food for the Hungry, headquartered in Phoenix, Ariz., has walked with the poor, responding to disasters and implementing long-term development in impoverished communities worldwide. For more information, please visit www.fh.org.
"Blue Mountain Tour" Itinerary:
*Dates and cities subject to change without notice
October 11 - Milwaukee, Wis.
October 12 - Lincoln, Neb.
October 13 - Omaha, Neb.
October 14 - Chicago, Ill.
October 18 - Springfield, Mo.
October 19 - Wichita Falls, Texas
October 20 - Garden City, Kan.
October 21 - Tulsa, Okla.
October 25 - Knoxville, Tenn.
October 26 - Chattanooga, Tenn.
October 27 - Huntsville, Ala.
October 28 - Birmingham, Ala.
November 1 - Thomasville, Ga.
November 2 - Gainesville, Fla.
November 3 - Bonita Springs, Fla.
November 4 - Sebastian, Fla.
November 8 - Wise, Va.
November 9 - Baltimore, Md.
November 10 - Columbus, Ohio
November 11 - Elkhart, Ind.
November 15 - Indianapolis, Ind.
November 16 - St. Louis, Mo.
November 17 - Cincinnati, Ohio
November 18 - Marion, Ill.
# # #
For more info on Brandon Heath visit the JFH Artists Database.