PIONEER EMBARKS ON THE LONG WAY HOME TOUR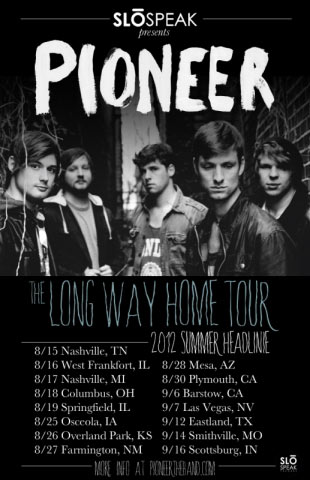 NEWS SOURCE: Slospeak PR
August 14, 2012
NASHVILLE, TN - August 13, 2012 - Slospeak Records' pop/rock act Pioneer is hitting the road. The "Long Way Home" tour kicks off this Wednesday in Nashville, TN and ends on September 16th in Scottsburg, IN. Tour poster is above. Dates and venue info are also listed HERE on their Web site.
Date Venue Location Tickets
Aug 15 Rocketown Nashville, TN
Aug 16 CHRISTIAN WORSHIP CENTER West Frankfort, IL
Aug 17 The Revue Nashville, MI
Aug 18 Cypress Student Center Columbus, OH
Aug 19 Powerlight Fest Springfield, IL
Aug 22 Grace Bible Church Columbia, MO
Aug 25 House of Freedom Osceola, IA
Aug 26 Grace Church Overland Park, KS
Aug 27 Word of Life Church Farmington, NM
Aug 28 Nile Theater Mesa, AZ
Aug 29 Barstow Community College Barstow, CA
Aug 30 Joshuafest Plymouth, CA
Aug 31 Joshuafest Plymouth, CA
Sep 01 Joshuafest Plymouth, CA
Sep 06 High Desert Church Barstow, CA
Sep 12 River Of Life Church Eastland, TX
Sep 14 Nehemiah Fest VI Smithville, MO
Sep 15 Forgiven Fest @ Farmland Friends Church Farmland, IN
Sep 16 The Rock Scottsburg, IN
ABOUT PIONEER:
Pioneer is the story of five Midwest boys who love music. What they thought would only be a summer musical fling developed into tours during spring and winter breaks. Three years later and Pioneer (formerly known as News from Verona) touts national tours with bands like The Wedding, Wavorly and Manic Drive and festivals including Ichthus, Cornerstone and Spirit West coast. Their latest record dropped January 24, 2012, which boasts two #1 singles. Pioneer is: Josh Randolph (vocals, keys), Chad Shirrell (guitar,vocals), Dalton Meyers (guitar), Daniel Voris (drums) and Nick Berry (bass). For continual updates, logon to Facebook, Twitter and their Web site.
# # #
For more info on Pioneer visit the JFH Artists Database.