THE WRECKING RELEASES SOPHOMORE PROJECT TODAY
SO MUCH FOR LOVE
CLIMBING UP THE iTUNES CHARTS, CURRENTLY TOP 10;
Band Currently Touring New Record, Tour Dates Listed Below
NEWS SOURCE: Merge PR
August 21, 2012
August 21, 2012 - Nashville, Tenn - Portland, Maine based pop/rock band The Wrecking releases their second full-length album, So Much for Love, today. The CD is on the New & Noteworthy section of the Christian/Gospel homepage on iTunes, and is climbing up the charts, currently #10 at press time.
So Much for Love features 14 tracks that contemplate the power between struggle and the beauty of rising from brokenness. The Wrecking collaborated with producer Dustin Burnett (Augustana, Newsboys, Throwing Gravity, Jimmy Needham) and mastering by Adam Ayan (Nirvana, Madonna, Foo Fighters, Carrie Underwood, The Rolling Stones) for their anticipated sophomore release. The band is currently touring the new record, and tour dates are listed below.
The Wrecking is also breaking all kinds of molds in the music industry with a strong mainstream and faith-based following. Generating buzz in both markets and with fans around the country, the record's first radio single, "View From The Top," caught the eye of the acclaimed Showtime series "The Big C." Last season the show featured an on-screen performance of the band performing their widely popular first single. You can check out a clip here.
"We are excited to share our sophomore record," shares Darren Elder, drummer for The Wrecking. "It represents our thoughts on love and love's impersonators from a variety of vantage points. It is a deeply personal expression for us that we hope resonates with those who want a closer look at love than what is simply perceived on the surface."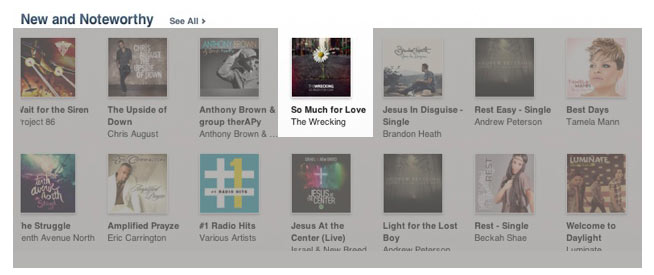 Want to know about what the media is already saying about So Much for Love?
"A mixture of ballads and rocking melodies that awakens the inner rock enthusiast, So Much for Love was a gem to listen to, bringing a breath of air into a Christian market. Well done, The Wrecking, for one of the most satisfying experiences of 2012!" - Indie Vision Music
"So Much for Love proves to be a strong album from start to finish." - New Release Tuesday
"Portland, Maine's The Wrecking turns up the aggression level yet another notch to make an impressive splash in the modern rock scene." - CCM Magazine
The Wrecking tour dates:
Aug. 24 - In-store Performance at Bull Moose Music - North Windham, ME
Sept. 29 - SoulQuest w/ Switchfoot & NEEDTOBREATHE - Bangor, ME
Oct. 13 - Connect Festival w/ Fireflight & Kutless - Rehoboth, MA
Nov. 1 - The Not For Sale Global Forum - Sunnyvale, CA
Jan. 18 - 20 - Excel - Youth For Christ National Convention - Saratoga Springs, NY
# # #
For more info on The Wrecking visit the JFH Artists Database.