KUTLESS SET TO KICK OFF THE BELIEVER TOUR SEPT. 12
WITH SPECIAL GUESTS FIREFLIGHT, HYLAND,
RHETT WALKER BAND AND ERIC SAMUEL TIMM
23-City Fall Tour Presented By Compassion International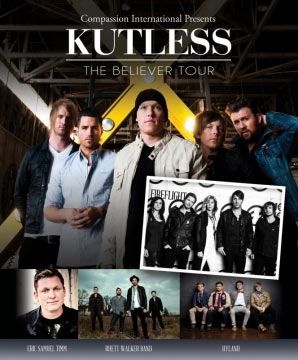 NEWS SOURCE: Southside Entertainment
August 28, 2012
NASHVILLE, TN – August 28, 2012 – Top-selling modern rock/worship band Kutless will headline The Believer Tour this fall, featuring Grammy-nominated rockers Fireflight, Minneapolis-based rock band Hyland, southern-rock newcomers Rhett Walker Band, and artist/speaker Eric Samuel Timm. The Believer Tour kicks off Sept. 12, and will travel to 23 cities across the U.S. through the end of October.
The Believer Tour takes its name from Kutless' newest studio album, Believer, which debuted at No. 1 on the iTunes Christian Albums chart earlier this year. Touted as the best Kutless release yet, Believer features the band's chart-topping single "Carry Me To The Cross" (six weeks at No. 1 on Soft AC/Inspo, Top 10 CHR and National Audience chart), along with other new radio favorites "Even If" (current AC/CHR/Inspo single on the rise), "If It Ends Today" (current Rock single on the rise) and "Need" (Top 10 Rock radio single).
Ticket buyers for The Believer Tour will have the option to purchase a special "VIP Experience" ticket, which includes premium concert seating along with a pre-show Q&A session with Kutless and Fireflight, commemorative tour pass, merchandise discount coupon and a post-show private autograph line. For the most up-to-date concert and ticket information – please visit www.kutless.com.
The Believer Tour is partnering with Compassion International, the world's largest Christian child development organization (www.compassion.com) that works through local churches to permanently release children from poverty. Founded in 1952, Compassion successfully tackles global poverty one child at a time, serving more than 1 million children—pre-natal through higher education—in 26 of the world's poorest countries. Kutless frontman Jon Micah Sumrall and his wife Shannon have been child sponsors through Compassion for the past 12 years, and over the years, all of the Kutless band members have individually sponsored Compassion children, observing first-hand the effectiveness of efforts such as the Child Survival and Leadership Development programs. Since 2006, Kutless has been an ongoing tour partner with Compassion, helping to generate more than 2,000 child sponsorships to date.
"I've had the privilege of seeing first-hand the work that Compassion International does in impacting lives of children all around the world," says Jon Micah. "My family has been actively involved in sponsoring children through Compassion International for over a decade and it has been a great joy to share what we have experienced and learned with the many friends and fans that listen to our music. It is our hope that many more believers will join with us in sharing the love of Christ with those in need and Compassion International provides an excellent opportunity for us to apply this biblical principle."
ABOUT KUTLESS
The Portland, Oregon-based Kutless has emerged as one of the premiere rock, worship bands. With over 2 million albums sold, an RIAA Gold-selling album (Strong Tower), AC Song of the Year in 2010 ("What Faith Can Do"), and 11 No. 1 radio singles, Kutless has transformed from that new rock band from Oregon to the one new bands look up to, the band whose music is all over the radio in multiple formats and on major tours. The group's accolades include multiple Billboard honors such as Top 10 positions on the magazine's "Hot Christian Song of the Year," "Christian Artist of the Year" and "Christian Album of the Year" charts. A brand new studio project, Believer finds Kutless using a decade of growth to deliver an expertly crafted set of songs with as much diversity in the music as there is consistency in the message. For more information on Kutless, visit www.kutless.com.
ABOUT FIREFLIGHT
Florida native Fireflight comprises Dawn Michele (lead vocals), Justin Cox (guitar, keys, vocals), Wendy Drennen (bass, vocals), Glenn Drennen (guitar), and Adam McMillion (drums). Fireflight released its national debut, The Healing of Harms, in 2006, followed by breakout sophomore album Unbreakable (2008) and For Those Who Wait (2010). The GRAMMY-nominated, modern rock outfit has received six career Dove Award nominations, including Artist of the Year in 2009, and lead singer Dawn Michele's 2010 Female Vocalist of the Year nomination. Additionally, the group won Taco Bell's inaugural fan-voted "Best of the Beat" contest in 2009, and performed at ESPN's "Winter X Games 13." The band's music has been featured on E! Entertainment's "Style Network" and in music-video reels at both American Eagle and Journey's stores across the country. For nearly a decade, the band has remained tireless road warriors on the concert circuit averaging 140 shows a year. For more information, visit www.fireflightrock.com.
ABOUT HYLAND
Melodic rockers Hyland, hailing from Minneapolis, MN, grabbed the Tooth & Nail label's attention with their EP Quotients, which was produced by Ben Kasica of Skillet and Nick Rad of Acceptance. Impressed with Hyland's live performance and strong original songs, Tooth & Nail released the band's first full-length debut, produced by Aaron Sprinkle, in May, 2011. Named one of Alternative Press' "100 BANDS TO WATCH" in 2011, Hyland will release a brand new album, Finding Our Way, on Oct. 23. The album's first single, "Beauty In The Broken," is currently out at radio. For more information on Hyland, visit: www.hylandofficial.com.
ABOUT RHETT WALKER BAND
Rhett Walker realized early on his need for mercy and redemption. Owning up to life's challenges and fully embracing God's grace, his personal trials forged in him a forthright nature in both life and music. Rhett Walker Band's debut Come To The River (July 10), featuring the powerful single "When Mercy Found Me," crackles with the musical energy of Walker's native South and bold themes of "grace with a calling" translated through songs reflecting a reverence for God, family and country that are both personal and universal. In addition to band mates Kenny Davis (drums) and Joe Kane (guitar), plus leading studio players Jerry McPherson (The Civil Wars) as well as Tony Lucido (Kelly Clarkson) on guitar and bass respectively, Walker presents 10 tracks with equal measures of muscle and beauty on Come To The River. For more information, visit www.rhettwalkerband.com.
ABOUT ERIC SAMUEL TIMM
He's part artist, part speaker, author and all passion – this is what gives Rev. Eric Samuel Timm relevance in today's changing landscape. Speaking, painting, and performing to thousands each year, he is sought after for his ability to present God's truth in ways that are attractive both to the church and to people who aren't in a current relationship with Christ. Eric resides north of Minneapolis, MN with his wife Danielle and son Xavier. For more info, visit www.nooneunderground.com.
KUTLESS – THE BELIEVER TOUR – FALL 2012
*Dates, markets and venues subject to change without notice
SEPTEMBER
12 – Parker, CO - Southeast Christian Center
13 – Roswell, NM - Grace Community Church
14 – Glendale, AZ - Community Church of Joy
16 – Highland, CA - Immanuel Baptist Church
20 – Del Rio, TX - Del Rio Civic Center
21 – Corpus Christi, TX - Church of Acts
22 – Greenville, TX - Municipal Auditorium
28 – Shallotte, NC - Highest Praise Worship Center
30 – Valdosta, GA - Mathis Auditorium
OCTOBER
05 – Williamsport, MD - Gateway Ministries (Re+Connection Conference)
06 – Lancaster, PA - Lancaster Bible College
07 – Delmar, MD - The Amphitheater at Heron Ponds
11 – Springfield, MA - CCNJ
12 – Charleston, ME - Charleston Church
13 – Rehoboth, MA - Francis Farm (Connect Festival)
18 – Weston, WI - Mount Olive Lutheran Church
19 – Madison, WI - Door Creek Church
20 – Kearney, NE - Kearney Evangelical Free Church
21 – Sioux City, IA - Cornerstone Worship Center
25 – Circleville, OH - Ohio Christian University
26 – Elkhart, IN - Grand Horizon Center
27 – Lansing, MI - Mount Hope Church (Awaken Conference)
28 – Sault Ste. Marie, MI - DreamMakers Theater
For more info on Kutless visit the JFH Artists Database.
For more info on Fireflight visit the JFH Artists Database.
For more info on Hyland visit the JFH Artists Database.
For more info on Rhett Walker Band visit the JFH Artists Database.