NICHOLE NORDEMAN'S LOVE STORY BOWS TODAY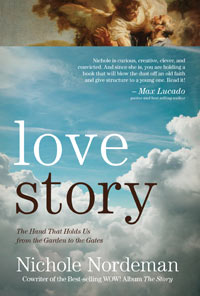 NEWS SOURCE: Turning Point
August 28, 2012
NASHVILLE, Tenn.-Love Story, the highly-anticipated literary debut from Dove Award-winning singer/songwriter Nichole Nordeman is now available from Worthy Publishing.
Subtitled The Hand That Holds Us from the Garden to the Gates, the book is based on the best-selling multi-artist recording, Music Inspired By The Story (EMI/WOW), which Nordeman co-wrote. Tracing God's unyielding mission from the beginning of time to rescue His beloved, in our most fragile and broken condition, Love Story exposes the humanity and more emotional underside of beloved biblical characters.
Author and speaker Luci Swindoll says, "I've always loved the writing of anyone who could take the alphabet and turn it into a little army of twenty-six soldiers, send them forth to march across a page, and occupy the territory with beauty, depth, poetry, humor, and truth. This is the talent of Nichole."
"Love Story is nothing short of the greatest story ever told, now brilliantly retold in modernity by a master communicator," says GRAMMY®-nominated and Dove Award-winning producer Bernie Herms, producer and Nordeman's co-writer of the Dove Award-winning Music Inspired By The Story. "Nichole instantly and effortlessly manages to transcend the surface familiarity with the characters and stories of the Bible, bringing us into a stunningly beautiful, uncommonly insightful, wickedly humorous, equally tragic and triumphant, fresh encounter with Scripture."
Nichole Nordeman is a recording artist and songwriter for Sparrow Records/EMI Christian Music Group, with numerous #1 and Top 10 singles to her credit and cumulative CD sales of over one million. A two-time Gospel Music Association winner for Female Vocalist of the Year, she has won a total of nine Dove Awards, including one recently as the lyricist on the best-selling album, Music Inspired By The Story. She lives with her family in Tulsa, OK. Connect with her on Twitter @nicholenordeman.
Worthy Publishing (www.worthypublishing.com), a division of Worthy Media, Inc., is a privately held company whose mission is helping people experience the heart of God. Worthy is an independent voice in Christian publishing, managing editorial, marketing, publicity, sales, and distribution from its home offices in Brentwood, TN. Worthy focuses on a boutique list of new books each year, crossing a broad spectrum of genres, including fiction, Bible study, current events, devotionals, biography, leadership, specialized Bibles, as well as spiritual and personal growth.
Love Story, a 266-page hardcover title, retails for $16.99 and is distributed by EMI CMG.
For further information visit http://worthypublishing.com/books/Love-Story/
# # #
For more info on Nichole Nordeman visit the JFH Artists Database.