The Wrecking's So Much For Love Takes Top 5 Spot On
Billboard Album Chart!
NEWS SOURCE: Merge PR
August 30, 2012
August 30, 2012 - Nashville, Tenn - With last week's release of So Much For Love, The Wrecking has made quite a splash! The sophomore project from the pop/rock quartet from Portland, Maine not only hit top 10 its first week out on the New & Noteworthy section of the Christian/Gospel homepage on iTunes but it also hit top 5 on Billboard's Contemporary Christian Album chart! Additionally, So Much For Love has charted at #21 on Billboard's Independent Albums, #45 on Billboard Rock Albums and #140 on Billboard's 200. Amazon.com placed the CD at #21 on its Top 40 Christian Albums of 2012, #22 for Praise & Worship albums and #33 for Contemporary Christian.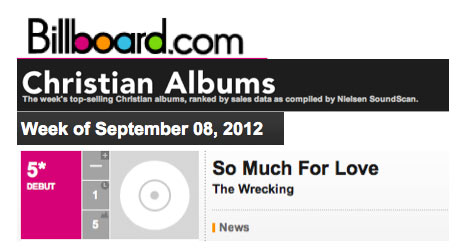 More About So Much For Love:
Touted as a "gem," "impressive" and a "strong album from start to finish," So Much For Love features 14 tracks that contemplate the power between struggle and the beauty of rising from brokenness. The Wrecking collaborated with producer Dustin Burnett (Augustana, Newsboys, Throwing Gravity, Jimmy Needham) and mastering by Adam Ayan (Nirvana, Madonna, Foo Fighters, Carrie Underwood, The Rolling Stones) for their sophomore release. The band is currently touring the new record.
About The Wrecking:
Three years into their career as The Wrecking, band members Karl Anderson (keyboards/bass/vocals), Chris James (guitar) and brothers, Douglas Elder (lead vocals/guitar) and Darren Elder (drums), have 500 live appearances under their belt and critical acclaim from mainstream and Christian music. Their 2008 debut, A New Abolition and 2010 follow-up EP The Catalyst garnered five charting singles and over fifty features and four star reviews in national press outlets. The success of their new single "View From The Top" off the upcoming 2012 So Much For Love release landed The Wrecking a placement and on-screen performance in the Showtime series The Big C. With several additional film and TV placements coming in from the success of "View from the Top," The Wrecking is generating buzz and gaining fans across the country.
Additionally, the passion of The Wrecking extends beyond music. Since 2010, the band has represented Not For Sale, a new anti-slavery organization that strives to release people from the bondage of modern-day slavery and human trafficking. The mission of the band is not only to bring awareness to the issue, but to encourage individuals to become activists. Since partnering with Not For Sale, The Wrecking has put on three "I Am Not For Sale" tours resulting in raising over 600 Not For Sale partners and over $20,000 in donations.
For information on upcoming I Am Not For Sale Tour dates and more about The Wrecking, please visit TheWrecking.net.
- ### -
For more info on The Wrecking visit the JFH Artists Database.