Chart-Topping Songwriter, James Tealy, Re-Signs Exclusive Contract With Centricity Music Publishing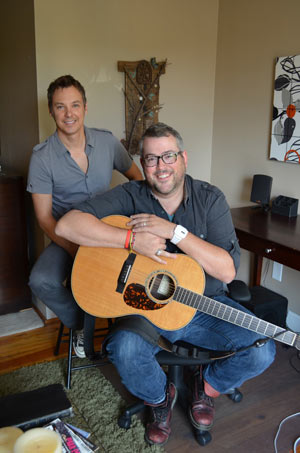 Left to Right: Steve Rice, Vice President, Centricity Music Publishing; James Tealy
NEWS SOURCE: Bozeman Media
September 5, 2012
Nashville, TN (September 5, 2012) ----- One of the industry's most notable songwriters, James Tealy, has re-signed an exclusive agreement with Centricity Music Publishing. Tealy has written such major chart-topping singles as; Kari Jobe's "We Are," Me In Motion's "Yes We Can," and Matt Papa's "Open Hands." Tealy is also a talented performer who has released five solo projects and recently emceed at the GMA IMMERSE 2012 Songwriter Showcase. Tealy compliments an illustrious roster of composers at Centricity Music Publishing that includes award-winning songwriters, Sam Mizell, Seth Mosley and Jason Gray.
"James Tealy makes songwriting look easy with his inspiring lyrics and memorable melodies," says Steve Rice, Vice President, Centricity Music Publishing. "He is one of those songwriters that truly understands how to pull the listener in and make them feel they are part of the story. We're proud that James has chosen to continue with us as part of the talented songwriting roster at Centricity Music Publishing."
"The Centricity family is such a rarity in the music industry," add Tealy. "A team of Kingdom-builders working together to release music that matters. After three rewarding years among these talented folks, the decision to stay with Centricity Publishing and build for the future was a no-brainer."
Tealy is a graduate of Belmont University's Music Business program and has been a featured speaker/panelist for a variety of songwriting and music industry conferences, which include lectures, song critiques and contest judging. As a songwriter, James' deep list of cuts include songs recorded by Kari Jobe, Chris August, Matt Papa, Abandon, and more than 40 others. James' songs have been featured on both film and major TV networks such as NBC, CBS, ABC Family, UPN, and more. As an artist, James Tealy has released 5 projects in the last 6 years and maintains a busy travel schedule of concerts, worship leadership, and teaching. ChristianityToday.com called James, a truly creative talent with inventive alternative pop that's intelligently crafted both musically and lyrically. In the summer of 2009, Tealy first signed with Centricity Music and has written for a diverse group of country, pop and gospel artists.
About Centricity Music Publishing
Launched in 2005, Centricity Publishing has quickly become a key player in the world of Christian song publishing. The company, led by industry veteran music publisher, Steve Rice, has placed songs in film, television, and advertising that include; Target, One Tree Hill, Jane by Design, Veggie Tales, NFL Network, and more. Centricity Publishing has also expanded their writer roster to include such award-winning songwriters as Seth Mosley Sam Mizell and James Tealy, along with many of the artist-writers on the Centricity Music and Eaglemont Entertainment labels. This successful publishing company continues to enjoy radio chart success with top songs recorded by artists like Aaron Shust, Mercy Me, Newsboys, Kari Jobe, Jason Gray, Phillips, Craig and Dean, Mark Schultz, Jason Castro, Disciple, Peter Furler, Anthem Lights, Paul Brandt, High Valley, and many others.
####