Andrew Peterson's Light for the Lost Boy Receiving Stellar Reviews:
"Best Album of the Year", "Pioneering Album", "Boldest and Most Imaginative Work"
The "I Have A Dream Tour" Launches Next Week, Features Special Guest Author/Speaker Bob Lenz, Artists Daniel Bashta, Eric Brandon
NEWS SOURCE: Bozeman Media
September 12, 2012
Nashville, TN (September 12, 2012) -----Andrew Peterson's latest project, Light for the Lost Boy was one of the most eagerly anticipated albums of the year, and after releasing last week the project has been hailed as Peterson's best album to date. The project, produced by longtime friend and producer Ben Shive (Jeremy Camp, Sara Groves, Matt Wertz), along with Cason Cooley (Katie Herzig, Mat Kearney, Audrey Assad), features ten new songs written by Peterson. The album will be available in three formats; CD, special edition CD with a 32-page booklet written by Peterson and seven acoustic extra songs, and on a vintage vinyl record. The special edition and vinyl projects will only be available online and at Peterson's concerts.
"I can't remember a record that made me this nervous," Peterson says. "It sounds so different, and I was really hoping the songs would connect with people. As much as I wish I were cool enough to not care what my listeners thought, the day of the release I was glued to my computer-it was such a joy to be able to read peoples' thoughts and to thank them in real-time for their comments. I was moved to tears several times. I can't express how glad I am that God lets me do this."
"Whenever we release a new album from one of our artists it is always with nervous anticipation," says Steve Ford, Vice President of Marketing, Centricity Music. "However, Andrew's Light for the Lost Boy deeply moved me so I really felt that the project would resonate the same way with anyone who heard it. I'm thrilled with the strong response Andrew is receiving from the fans and media and it's so well deserved for this incredibly talented artist."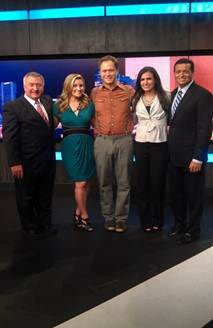 Left To Right: Craig Edwards, FOX 17/TN Mornings; Kelly Sutton, FOX 17/TN Mornings; Andrew Peterson;
Erin Como, FOX 17/TN Mornings; Nick Paranjape, FOX 17/TN Mornings
Press reviews for Light for the Lost Boy have been stellar with the project receiving 4 and 5 star reviews.
JesusFreakHideout.com (rare 5-star review) - Light for the Lost Boy is one of the year's best and bravest records yet.
ChristianityToday.com (4-star review) - Lost Boy places the mantle of Rich Mullins squarely on Peterson's shoulders.
NewReleaseTuesday.com (5-star review) - The songwriting is superb. Don't be surprised if you find a treasured lyric not just in one song, but at least once in every song!
Sound Opinion - It's the best album of the year so far….
Christian Manifesto - Andrew Peterson has once again delivered a pioneering album, a timeless project that redefines what music can do….
The Phantom Tollbooth - Light for the Lost Boy by Andrew Peterson is his boldest, most imaginative work.
Peterson performed "You'll Find Your Way" from the new project recently on FOX 17 TN Mornings in Nashville, TN. Then on Sept. 21, Peterson will perform an album release during his 3rd Annual Hutchmoot event in Nashville with a full band that includes Ben Shive, Andy Gullahorn, and opening act, Caleb. This is the first date on the Light for the Lost Boy tour that runs through November. In October, Peterson will head to Chicago, IL for appearances on Moody's national radio show, Midday Connection (11th), and WGN Midday News (12th).
For more information on Peterson and his upcoming tour dates please visit online at www.andrew-peterson.com.
####
For more info on Andrew Peterson visit the JFH Artists Database.