TOOTH & NAIL RECORDS ANNOUNCES THE SELF-TITLED DEBUT ALBUM FROM NEW DUO MATT & TOBY
SPECIAL LIVING ROOM SESSIONS ANNOUNCED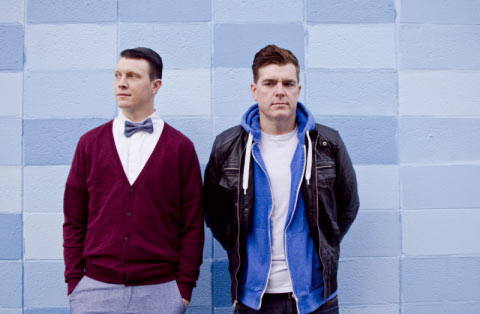 NEWS SOURCE: Merge PR
September 21, 2012
SEATTLE, Wash. -September 21, 2012 -Tooth & Nail Records announces the new group Matt & Toby and their self-titled debut releasing on November 20th. This is a musically adventurous band that is the vision of Matt Carter and Toby Morrell of heavy rock mainstay Emery. Fans do not despair, as they are not leaving Emery. Matt & Toby will be another avenue for the duo to make music. Music from Matt & Toby will range from the lighter side of Emery to elaborate and quirky full production acoustic and electronic music.
To celebrate the forthcoming release, Matt & Toby will be premiering an in-studio music video as well as a song from the album on their blog, un-learning. Click here to check out the music video as well as the new track.
Matt & Toby's intent is to be extremely interactive with their audience. Part of this intentional connection with their audience, Matt & Toby are going to be performing living room acoustic shows starting in October through November. "Matt & Toby In My Living Room" will be an acoustic show in private homes. These intimate evenings will be where the duo will be able to connect with their fans and talk about the songs on the release. Tickets can be purchased here along with more information. (Dates Listed Below)
Matt and Toby both hail from South Carolina before they relocated to Seattle to begin Emery in 2001 releasing their label debut in 2003. After 11 years, multiple worldwide tours and more than 450,000 albums sold, Matt and Toby are excited to have another venture to express themselves musically as "Matt & Toby."
"Matt & Toby In My Living Room"
October 15 Seattle, WA
October 16 Bonney Lake, WA
October 17 Portland, OR
October 18 Corvallis, OR
October 19 Medford, OR
October 21 Sacramento, CA
October 22 San Francisco, CA
October 23 San Jose, CA
October 24 Fresno, CA
October 25 Paso Robles, CA
October 26 Bakersfield, CA
October 27 Baldwin Park, CA October 29 Pomona, CA
October 30 Orange, CA
November 2 Tempe, AZ
November 3 Benson, AZ
November 5 Colorado Springs, CO
November 6 Littleton, CO
November 9 Missoula, MT
# # #
For more info on Matt & Toby visit the JFH Artists Database.
###