FAMILY FORCE 5 HITS THE "CRAY BUTTON" WITH NEW VIDEO PREMIERE FEATURING LECRAE
"CRAY BUTTON" FEATURING LECRAE AVAILABLE ON iTUNES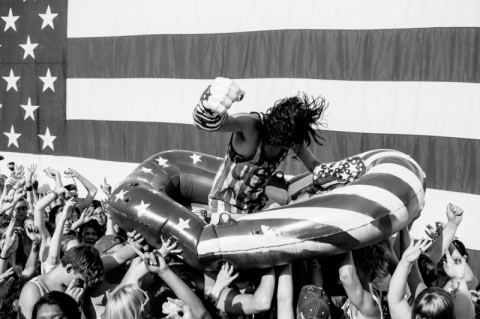 NEWS SOURCE: Merge PR
September 25, 2012
ATLANTA, Ga - September 25, 2012 -Today FAMILY FORCE 5 is debuting a newly remixed song, "Cray Button," featuring GRAMMY-nominated hip-hop artist LeCrae. The original track was released in May on the digital EP III.V. In addition to the song available on iTunes (click here to purchase), FAMILY FORCE 5 is premiering the fanpowered music video today. Click here to watch the newly posted music video, which was directed by Isaac Deitz. Fans can also watch the music video premiered on Rapzilla.com yesterday.
The "Cray Button" video was funded through a Kickstarter campaign giving their die-hard fans a personal experience to be a part of this music video. The video was shot in Texas this summer with hundreds of fans joining the fun. Fans traveled as far as from California to be a part of this video. Following the taping, FAMILY FORCE 5 held a private concert for all of the participants. Another special guest is in the "Cray Button" video YouTube celeb Meekakitty. She has used the band's song "Zombie" in one of her videos.
"Family Force 5 are a fun bunch of guys and are extremely creative," shares Chad Horton, Co-Owner at Rapzilla.com on premiering the video. "We're ecstatic about being able to come alongside with them to serve."
Family Force 5 is finishing up a run in Australia and will begin the "Music With A Mission" tour with Disciple, DA' T.R.U.T.H, Icon For Hire, Bread of Stone and Willet. This tour begins on September 28 (dates below). Music With A Mission tour and CURE are partnering up to save the lives of children in Uganda who are suffering from Hydrocephalus, a deadly brain condition that affects nearly 400,000 newborns each year globally.
About FAMILY FORCE 5:
Soul Glow (Solomon Olds), Crouton (Jacob Olds), Phatty (Joshua Olds), Nadaddy (Nathan Currin), Chap Stique (Derek Mount) continue to evolve and create music that take their fans on a journey. FAMILY FORCE 5's latest studio album, III, marks a dynamic shift and takes the group back to their rock roots, resurrecting the heavy guitars and bombastic beats of their debut. Unadulterated energy ties the band's unstoppable genre hopping as FAMILY FORCE 5.
This year FAMILY FORCE 5 has pulled out all the stops to give a hands-on experiences to their fans. The band has taped three fanpowered music videos involving fans from their latest studio release III as well as hosted an intimate acoustic tour, "Rise Up." All of these efforts point to the band's rebirth and going back to the roots of who they are as FAMILY FORCE 5.
FAMILY FORCE 5 have earned a loyal following culled from their endless touring and chart-topping albums. The group's previous album, 08's Dance or Die, debuted on the Billboard Top 200 chart at #30 and the Modern Rock chart at #8 with 13,000 copies sold in the first week. An Alternative Press magazine cover story followed and the group co-headlined the completely sold-out "Alternative Press Fall Tour" with 3OH!3 and The Maine.
About Rapzilla.com Rapzilla.com is the most visited Urban Christian Culture destination online, existing to inform the urban community immediately about Christian news, music, videos, live interviews & broadcasts first! The site is home to the most comprehensive artist and content database in Urban Christian Culture, all supported by an explosive social media presence keeping readers captive and active.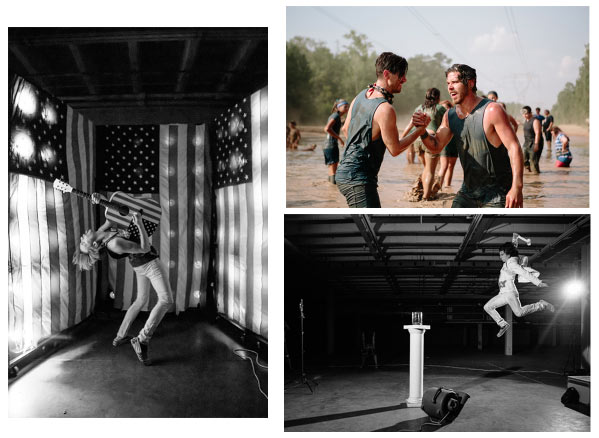 Music With A Mission Tour
SEP 28 Beckley, WV
SEP 29 Mt. Vernon, OH
SEP 30 Willoughby Hills, OH
OCT 1 Keyser, WV
OCT 5 Hickory, NC
OCT 6 Cullman, AL
OCT 7 New Albany, IN
OCT 9 Springfield, MO
OCT 13 San Angelo, TX
OCT 14 El Paso, TX
OCT 15 Farmington, NM
OCT 16 Albuquerque, NM
OCT 18 Glendale, AZ
OCT 19 Las Vegas, NV
OCT 20 Highland, CA
OCT 21 Lodi, CA
OCT 23 Live Oak, CA
OCT 25 Casper, WY
OCT 26 Minot, ND
OCT 27 Baxter, MN
OCT 28 Fosston, MN
OCT 29 Omaha, NE
NOV 3 Kimberly, WI
NOV 4 Rockford, IL
# # #
For more info on Family Force 5 visit the JFH Artists Database.