WOW Launches First Ever Christian Music Spotify App This Week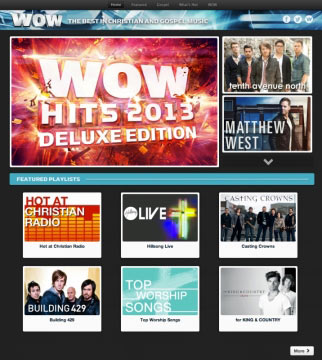 NEWS SOURCE: The M Collective
September 26, 2012
Nashville, Tenn. - September 26, 2012 - EMI Christian Music Group, Provident Music Group and Word Entertainment continue the expansion of the world's leading Christian music compilation brand with the release of the WOW app on Spotify this week. The launch of the app marks the first ever Christian music app on Spotify and allows users to discover an artist's catalog, experience the best of the genre, have more engagement with artists' music, and share playlists with friends through Spotify, Facebook, Twitter and Tumblr.
The WOW compilation series has sold more than 28 million copies since its inception in 1995, and now makes its streaming service debut. Spotify is the largest and fastest-growing music service of its kind, allowing consumers to instantly stream music from a variety of genres and artists.
"All of us at EMI are excited to work together to bring the best of the best in Christian and Gospel music to fans around the world," said Bill Hearn, President and CEO of EMI Christian Music Group. "Spotify is one of the top streaming companies in the world and we look forward to connecting our artists with their fans in an easily accessible and engaging way."
Rod Riley, President and CEO of Word Entertainment, commented, "WOW's Spotify app is a fantastic tool in further spreading Christian artists' music to not only its core fan base, but new audiences globally. We're very happy for Word Entertainment to be a part of its launch."
"Spotify is leading the way in the development of tools to engage fans with music and artists in new and exciting ways," said Terry Hemmings, President and CEO of Provident Music Group. "Provident Music is pleased to be a part of this revolutionary app and we look forward to seeing significant results."
"Christian Music fans are passionate consumers who will benefit from the WOW app's curation and recommendations," said Steve Savoca, Head of Content, Spotify. "This is another great example of third party music experts taking full advantage of the Spotify platform to foster genre-specific music discovery."
With nearly 1 million consumer interviews conducted worldwide, EMI Music's extensive research indicates that nearly 40% of Christian music fans use free online streaming services at least occasionally, are more than 1.5 times more likely to use streaming services than the average consumer and are all significantly more likely to report use of both Spotify and Spotify Premium when compared to the average consumer. In addition, these fans are actually more likely to say that online audio streaming services help them discover new music.
Continuing Spotify's efforts to provide innovative, engaging music-based apps, the WOW app aggregates Christian music playlists for the first time. Available playlists for the WOW app include Hot at Christian Radio, Hot at Gospel Radio, Songs To Get You Through The Day, Summertime Playlist, Top Worship Songs, festival & tour playlists, and playlists that feature the best from artists like Chris Tomlin, Casting Crowns and Francesca Battistelli, among others. App users can filter through playlists and sort them based on recently added or most popular.
About WOW:
Established in 1995 with collaboration between EMI Christian Music Group, Provident Music Group, and Word Entertainment, the three largest Christian music and entertainment companies; WOW releases multiple compilation albums each year, including WOW Hits, WOW Gospel and WOW Worship. The marketing and distribution of WOW is shared among the three companies. The entire WOW branded series (Hits, Worship, Gospel, and specialty releases) tops 28 MILLION units in sales.
About Spotify:
Spotify is an award-winning digital music service that gives you on-demand access to over 18 million songs, wherever you are. Spotify makes it easier than ever to discover, manage and share music with your friends, while making sure that artists get paid.
Since its launch in Sweden in 2008, Spotify has become the largest and most successful music service of its kind, with over 15 million active users and over 4 million paying subscribers. Spotify is now available in fifteen countries around the world: USA, UK, Sweden, Finland, Norway, Denmark, Germany, France, Spain, Austria, Belgium, Switzerland, The Netherlands, Australia and New Zealand.
For more information on Spotify, visit, www.spotify.com.