AFTER THE MUSIC STOPS
New Christian Music Talk Show Web Series
Launches in October 2012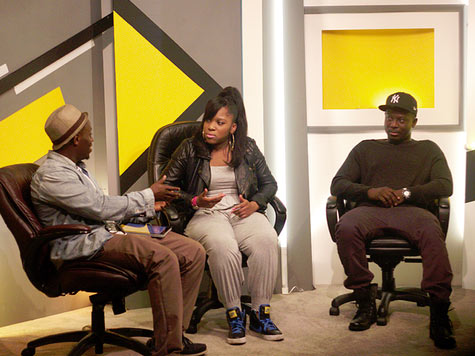 NEWS SOURCE: Dunamis Alliance Productions
October 4, 2012
Dunamis Alliance Productions and SparkleLight Productions are proud to present a new web series: After The Music Stops. This electric new topical discussion show takes a deeper look behind the music, the artists and the structure within the UK Christian Music industry.
How do the artists deal with issues of compromise, division, accountability and much more, when the stage lights are off and the tracks stop playing?
The show is presented by the multi-talented Comedian, Dancer, Vocalist, Poet, Actor, Rapper and Presenter, Simply Andy. Andy is no stranger to the Christian music industry and he fuses his charm and inquisitive nature, to tackle the difficult issues.
This 8 part web series makes an explosive start in October 2012 and will feature a great number of prominent stars and upcoming artists within the UK Christian music scene. Kicking off with Episode 1, which features Faith Child, Baliva Music and Edwina Okoye (lead singer of Beautiful Remnant), the series is definitely not to be missed!
QUOTES from the show: "I think there's a need for discipleship within the industry". "It's not about the money but the money helps to get the message out there"."The 'Christian' tag can lead to pigeon-holing, but definitely lets people know what you're about upfront".
The show aims to ultimately encourage, edify and promote growth and unity within the UK Christian Music scene. This is the aim of its producers.
Dunamis Alliance Productions is a Production company founded by filmmaker Dominic Pierre-Packer in 2009, and offers a wide range of film and video solutions (www.dunamisallianceproductions.co.uk).
SparkleLight Productions is a new Christian Media company founded by Video Editor Pamela Sakyi in 2011, and exists to serve the Christian media industry in the UK (www.sparklelightproductions.co.uk)
Catch all the episodes at the ATMS website: www.afterthemusicstops.wix.com/atms
Join the discussions about the show on our Twitter and Facebook pages: @A_T_M_S_
https://www.facebook.com/pages/After-The-Music-Stops/430851703619066?
###