Unspoken Having Major Impact At Christian Radio With Single "Who You Are" That Includes Adds At KLOVE, Air 1, WAY FM And New Life Media
Band Leads Worship At Celebrate Recovery Event In Maine With President/Founder John Baker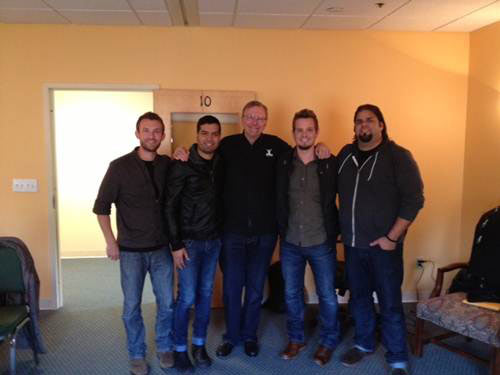 Left To Right: Left To Right: Jon Lowery, Michael Gomez, Unspoken; Celebrate Recovery's President/Founder John Baker;
Chad Mattson, Ariel Munoz, Unspoken
NEWS SOURCE: Bozeman Media
October 12, 2012
Nashville, TN (October 12, 2012) ---- Since Unspoken released their Centricity Music debut EP, Get To Me, they have been making a strong impact with Christian radio and fans around the country. Their single, Who You Are, which released in June, is currently #15 on the CHR chart, #26 on AC Indicator, and #30 AC Monitored. Major stations such as KLOVE, Air1, KSBJ/Houston, TX, KTIS/Minneapolis, MN, KFSH/Los Angeles, CA, New Life Media, Way FM, KLJY/St. Louis and WBSN/New Orleans, LA are already on the song.
Unspoken had that same impact with their live debut at Momentum 2012 where the appearance was hailed as the premiere performance of the event. Even other Christian artists were blown away by the song and performance with Jamie Grace tweeting, "omg I love that song;" Blanca/Group 1 Crew, "Just listened to Unspoken here at Momentum conference in Disney and they're amazing!," and Dara Maclean, "Killer chorus guys, love your sound!" The performance is also receiving positive online reaction at YouTube where the song has been viewed over 150,000 times with fans exclaiming… "When you feel a song so deep you get goosebumps!, Good harmony, Good singers, Good Message. What more do ya want in a song?, And thank you Air 1 for playing this song and of course Unspoken for writing this song!"
Unspoken's music ministry is also leading the group to help recovering addicts through Celebrate Recovery events. The band has been active participants with the organization for the last few years, after lead singer Chad Mattson began sharing his testimony on how Jesus helped him to overcome his drug and alcohol addiction. Last weekend, Unspoken was invited to the first Celebrate Recovery One Day event in the state of Maine, where the group led worship and performed Recovery, a song inspired by Celebrate Recovery. While in Maine, the band met Celebrate Recovery's President/Founder, John Baker.
About Unspoken
Unspoken is a 4-member band comprised of lead singer Chad Mattson, bassist Jon Lowry (who are both from Maine), guitarist Mike Gomez (Dominican Republic), and drummer Ariel Munoz (Puerto Rico). The group was initially formed in the Dominican Republic where Mattson met Gomez. When the duo returned to the states the pair hooked up with Lowry, Mattson's childhood friend. Munoz joined the band when he met Unspoken at Nashville talent contest. The group has made great strides as an independent artist, playing with such high-profile acts as Third Day, David Crowder, Casting Crowns, TobyMac, and Pillar. With an electrifying live performance, Unspoken brings a fresh sound to the CCM market with an eclectic blend of musical backgrounds. Centricity Music is the band's first label signing and Get To Me is their first national release. For more information on the band please visit www.unspokenmusic.com.
About Centricity Music
Centricity Music is an independent recording and publishing company based in Bellevue, Washington and Nashville, Tennessee. The company's mission is to enable our artists to create life-changing experiences for the world. Centricity Music's artist roster includes; Aaron Shust, Andrew Peterson, Downhere, Jaime Jamgochian, Jason Gray, Remedy Drive, Seth Mosley, Sixteen Cities, and Unspoken. Additional information is available online at www.centricitymusic.com
###
For more info on Unspoken visit the JFH Artists Database.