JASON BARE AND CLAY CROSSE UNITE
FOR THE NIGHT OF WONDER TOUR
Top 10 Billboard Artist Bare and Four-time Dove Award Winner Crosse Combine Talents For An Unforgettable Christmas Concert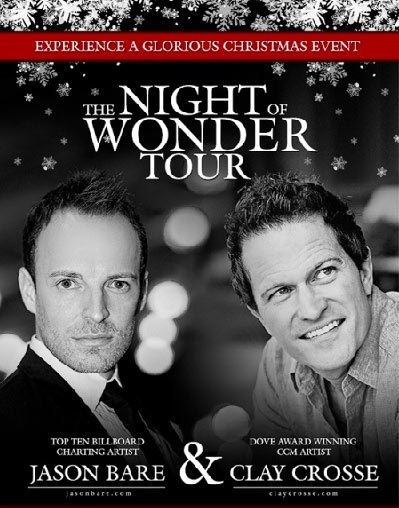 NEWS SOURCE: McCain & Co. PR
November 5, 2012
Nashville, Tenn. (November 5, 2012) - Two of contemporary Christian music's most distinctive voices are collaborating on what is shaping up to be one of the season's most memorable Christmas concert events. Top 10 Billboard charting singer/songwriter Jason Bare and four-time Dove Award winner Clay Crosse are prepping for The Night of Wonder Tour.
"It is such an honor to be doing this tour with my friend, Clay Crosse," says Bare. "It's been a blast just working with such an amazing singer/songwriter preparing for this tour. We've been writing the title song for these events, "Night of Wonder," and I can't wait for its debut. I believe that our love for Christmas and our desire to worship our Savior will create a unique and powerful Christmas experience." Christmas is a special time of year for Bare. With a long history of leading praise and worship in traditional settings, the singer/songwriter launched his national platform in 2010 with the release of a Christmas song, "For the First Time." The song resonated with radio and quickly climbed to No. 1 on the Christian Music Weekly (CMW) Worship chart, No. 2 on the CMW Inspirational (INSPO) chart, No. 8 on the CMW Christmas charts, and remained one of the Most Added songs on CMW's INSPO chart for five weeks. Bare released his five-song Christmas EP, Have You Heard, the following year with similar results. The title track hit No. 2 on the CMW INSPO chart, No. 5 on the CMW Christmas chart and peaked at No. 16 on Billboard's Soft AC/Inspirational National Airplay chart, and remained in the Top 20 on that chart for four weeks.
"I am stoked about doing this tour with my friend, Jason Bare," says Crosse. "Jason is a true worshipper, and what better time of year to worship our King than at Christmas? This promises to be a special and fun Christmas event and I'm thankful to be a part of it."
Crosse exploded onto the Christian music scene in 1994 with the release of his debut album, My Place Is With You, on Reunion Records. The Gospel Music Association honored him with its coveted Best New Artist of the Year award at the 25th Annual Dove Awards. Nine songs from Crosse's first four projects hit No. 1, and he earned three additional Dove Awards, including the 2000 Inspirational Recorded Song of the Year for his hit, "I Will Follow Christ." Crosse's newest CD, reDedication, is set to release November 10.
"I'm very excited to be involved with bringing two very distinct voices together to celebrate the birth of the King of Kings," says Bill Maddox of Maddox Management. "The combination of these two men's voices and ministries will certainly both delight and encourage every listener."
For more information about the tour, visit jasonbare.com or claycrosse.com.
About Jason Bare:
After spending a lifetime growing up in church as a preacher's kid, attending Lee University and traveling as part of the Lee Singers, Bare has spent the past 14 years leading congregations in praise and worship, most recently at Kingdom Life Ministries in Virginia, while also writing and singing his original music. In December 2010, his debut radio single, the nationally-released Christmas song, "For The First Time," hit No. 1. In 2011, he released his debut CD, Beautiful Design, and his Christmas EP, Have You Heard. In December 2011, the title track from Have You Heard peaked at No. 5 on the Christian Music Weekly Inspirational chart and No. 16 on Billboard's Soft AC/Inspirational National Airplay chart. During the last few years, Bare has appeared on television networks including TBN, JCTV and CTN, premiered his first music video for "You Found Me" and toured throughout the United States and South Africa. For more information, visit jasonbare.com.
About Clay Crosse:
Clay Crosse is a four-time GMA Dove Award winner, including a win as New Artist of the Year during the Gospel Music Association's 25th Annual Dove Award celebration. His songs have topped the charts nine times.
Crosse continues to sing and lead worship at events nationwide, and also serves as worship pastor at Faith Baptist Church in Arlington, Tenn. Along with his wife, Renee, he has co-authored the book, I Surrender All. The Crosses lead marriage events nationwide through their HolyHomes ministry, as well as serving as spokespeople for Holt International Adoption.
Clay and Renee Crosse have been married since 1990 and have four children, including two adopted children from China. For more information, visit claycrosse.com.
# # #
For more info on Clay Crosse visit the JFH Artists Database.