Family Force 5 Announces 2012 Christmas Pageant Tour!
With special guests Rapture Ruckus, Everyday Sunday and Capital Kings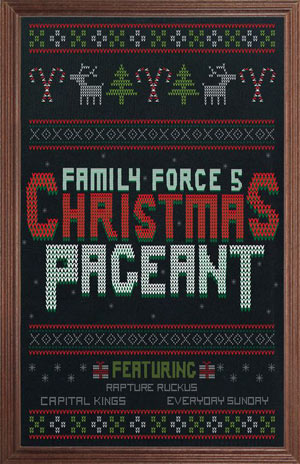 NEWS SOURCE: Family Force 5 / JesusFreakHideout.com
November 5, 2012
Family Force 5 made some fun announcements for fans today, including a new Christmas tour, auctions for the band's music video wardrobes, and more. Check 'em out below...

"Deck the halls and jingle-jangle the bells...we're about to bring you the best Christmas party of all time. To quote Crouton, it's the Family Force 5 Christmas Pageant Tour y'all! We're pumped about this thang, and this time we are joined by some of the coolest bands we've ever had on the tour: Rapture Ruckus, Capital Kings, and Everyday Sunday.
Come make it rain on the baby with us:
December 7 - Greensburg, PA (Tickets here)
December 8 - Columbia, MD (Tickets here)
December 10 - Grand Rapis, MI (Tickets here)
December 11 - Madison, WI (Tickets here)
December 13 - Columbus, OH (Tickets here)
December 14 - Cincinnati, OH (Tickets here)
December 15 - Dover, OH (Tickets here)
December 16 - Valparaiso, IN (Tickets here)
2012 Music Video Clothing Sale
Don't just walk like a zombie...look like one too!

This is your EXCLUSIVE chance to purchase the authentic costumes from your favorite Family Force 5 videos of 2012! Want to get undead in some legit zombie clothes? Want to go muddin' in your favorite U.S.Cray gear worn by U-S (us)? NOW YOU CAN! We're going to auction the official outfits (designed by Crouton) from the Cray Button video, the Wobble video, the Zombie video, the Paycheck video, plus a few bonus items STARTING AT $0 EACH!!!!!

This incredible, once-in-a-lifetime sale will take place November 20 through November 25 on our Ebay page. Do not miss this chance to own a piece of youtube history! Stay tuned to our facebook and twitter for deitz (spelling intended...as usual).

We Hit the Cray Button We just gotta say that we have the best fans. Not only did you help us and our good friend Isaac make 'Cray Button feat. Lecrae and Meekakitty,' you helped us get to #1 most commented (currently #2) and #8 most shared on MTV.com! Holla! You can still watch it on MTV.com here. The good thing is that the party doesn't have to stop because you can hit the cray button anytime you want on our Youtube page."
# # #
For more info on Family Force 5 visit the JFH Artists Database.