HM Magazine founder Doug Van Pelt publishes
Rock Stars on God, Volume Two
Big-name mainstream artists open up on God, spirituality and music
in popular Rock Stars on God series from the pages of HM Magazine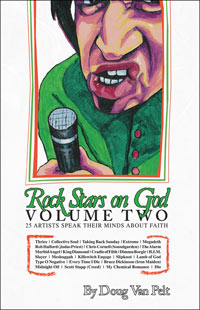 NEWS SOURCE: Biscuit PR
November 12, 2012
(Lago Vista, TX) Mainstream artists often shy away from topics regarding the spiritual, however Doug Van Pelt, editor and founder of HM Magazine, has a history of opening up the conversation with even the most skeptical of artists. Now Van Pelt has published his third book - Rock Stars on God, Volume Two (HM Press, 2012) to continues the popular series that debuted with Relevant Books' 2004 release - Rock Stars on God.
"The series started with the assumption that we'd put out several volumes to cover the ongoing interviews with mainstream artists that I have been doing for years with HM Magazine," explains Van Pelt.
Readers and interview subjects have been supportive by the upfront and bold questions about spirituality that arise during an unassuming interview centered around the artists' new releases. The author will go from a question about the new album or the musical landscape or culture around us and transition to a question that often has to be repeated: "What do you think about Jesus Christ?" This is usually followed unapologetically but gracefully with the question: "What do you think about His claims to be, 'the way, the truth and the life - no one comes to the Father but by Me?"
"It catches the interview subject by surprise, usually," admits Van Pelt, "but from the get-go I've tailored an interview experience that goes beyond the typical one-right-after-another question about the new album, touring and promotional plans. I've been on both sides of the interview process, so I know that many of these artists are carving out a few hours of their day to do back-to-back 30-minute interviews with varied media outlets. They hear the same questions over and over again. I like to get them to talk, so I treat them with respect and ask open-ended questions and make it interesting for both them and the eventual reader."
This formula, from the "What So & So Says" regular feature in HM, started back in 1990 and quickly became a favorite among readers. Reactions from artists have been quite positive as well: "What the h*ll are you trying to do, Doug - make me think?" laughed Sammy Hagar after his 30-minutes with Van Pelt.
Relevant Books saw the popularity of these articles and published the first volume in 2004. When Relevant scaled back their operations and got out of the book business, Van Pelt secured a release from his contract and regained the series title. "I always knew Volume Two would be more engaging," boasts Van Pelt, "Relevant did a wise thing in choosing the biggest names out of my 100+ interviews. I know that the biggest names do not necessarily equal the best interviews, so my plan was always to hand-pick the interviews for this volume. While bands like Type O Negative, H.I.M., Extreme, Slipknot and King Diamond may not be household words, those interviews rocked."
Rock Stars on God, V.2 is not only better than its predecessor; it's bigger, featuring 29 total interviews with 25 artists. "Some bands have multiple interviews we included, because we could," smiles Van Pelt in pondering the benefits of self-publishing with his magazine's sub-imprint, HM Press. The artists in this 379-page volume include: Thrice, Collective Soul, Meshuggah, Taking Back Sunday, Extreme, Rob Halford (Judas Priest, Fight), Morbid Angel, Dimmu Borgir, King Diamond, Chris Cornell (Soundgarden, Audioslave), Megadeth, H.I.M., Cradle of Filth, Killswitch Engage, Slipknot, Lamb of God, Type O Negative, Every Time I Die, The Alarm, Midnight Oil, Scott Stapp (Creed), My Chemical Romance, Bruce Dickinson (Iron Maiden), Slayer and Ronnie James Dio.
About HM Press:
A new imprint of HM Magazine, HM Press has published three books since it's inception in 2012: Desert High by Doug Van Pelt (Van Pelt's first novel about high school football and time-travel); Flying Tales by Larry Van Pelt (100 short stories about flying from the senior Van Pelt's career in the U.S. Air Force); and Rock Stars on God, V.2.
For more information: http://tinyurl.com/RockStarsOnGod
# # #