PROJECT 86'S ANDREW SCHWAB RELEASES NEW BOOK THE TIN SOLDIERS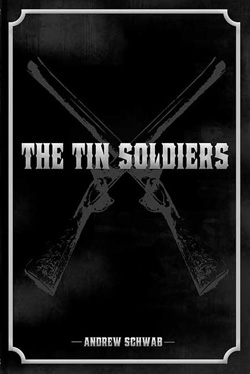 NEWS SOURCE: Team Black Entertainment
November 28, 2012
November 28, 2012--Los Angeles, CA--Andrew Schwab's long-awaited new book titled The Tin Soldiers in now available in print and on e-formats for Kindle and iPad. Having developed a unique platform with his band Project 86 and through his writing for outlets such as Relevant, AP, Time Life, Charisma, CCM, etc along with his own blog and 4 other books Schwab writes with a heart for a generation of lost and purposeless young adults, specifically young men. After working in church ministry for six years and touring with his band for the last sixteen, Schwab has been immersed in a world of hurting men and has seen first hand what challenges they face. "I have a heart for these guys. I want to see them embraced and encouraged rather than labeled 'unreachable'-which is what many leaders in the church have done today," states Schwab.
Inspired by such Christian voices as C.S. Lewis, G.K. Chesterton, Saint Augustine and Francis Schaeffer, Schwab has been immersed in this particular work for almost eight years. He states,"I have wanted to write a more ministry focused book for a long time and felt this immense need to encourage my brothers in Christ. This book draws from my own experiences and from the lessons I have seen my friends go through, and I hope it is a source of light for guys who feel lost and hopeless."
With The Tin Soldiers, Andrew Schwab delivers his most candid, comical, and spiritually encouraging work to date. Schwab delves into topics such as addiction, pride, lust, relating to the opposite sex, and more in this collection of daily readings. The Tin Soldiers offers direction for the drifter, purpose for the purposeless and a practical template on how to find something this generation of guys has had difficulty finding: an identity based in righteous character.
And even though this work is focused around men, women can better understand the issues they face in this work, as well as having a relevant tool to give to the males in their lives who need encouragement.
In the months to come, Schwab will be hosting Tin Soldiers events around the country, with the goal of establishing communities of fellowship and support in individual markets across the nation. He will also be speaking at youth events, festivals and churches on topics from the book. He says, "In the end, without connection to one another we will drown spiritually. I want to use my experiences and gifts to help guys find one another and discover they are not alone in the issues they are dealing with."
For more information about the book and Andrew Schwab's band Project 86 please visit: project86.com and andrewschwab.com.
#####
For more info on Project 86 visit the JFH Artists Database.