KUTLESS ANNOUNCES THE PARTNERSHIP WITH SAMARITAN'S PURSE AND OPERATION HEAL OUR PATRIOTS
KUTLESS MILITARY MISSION PROJECT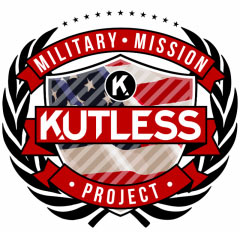 NEWS SOURCE: Merge PR
December 3, 2012
SEATTLE, WA. - December 03, 2012 - BEC Recordings' Kutless announces the Kutless Military Mission Project. This is a partnership with Operation Heal Our Patriots, a project of Samaritan's Purse, that ministers to service members of all U.S. military branches. After touring around the world, Kutless has had the privilege of meeting many men and women serving in the nation's armed services. Recognizing the sacrifice that those individuals have made, Kutless wants to give back to the troops.
"We have gotten to meet and interact with service members stationed everywhere from Alaska to Germany, and we are grateful for the stories they have shared with us," shares frontman Jon Micah Sumrall. "Hearing their struggles and stories of sacrifice has both inspired and encouraged us. We hope that our music continues to be a blessing and an encouragement to all of our countries' service members, but we desired to do more to try and help and impact those who have sacrificed so much for all of us. That is why we created the Kutless Military Mission."
More than 48,000 U.S. service members have been wounded or injured as a result of combat actions in Iraq, Afghanistan, and elsewhere in the global war on terror since the 9/11 attacks. The Kutless Military Mission Project is a two-fold ministry. They have formed a program to give away free concert tickets for active and retired military members and their spouses. It is the band's hope that these tickets will give these military families an opportunity to be encouraged and refreshed as they enjoy the concert.
Secondly, Kutless will be donating a portion of all merchandise proceeds to Operation Heal Our Patriots. At each show, the band will be helping to create awareness about this project by promoting it at their merch table with a banner and informative brochures.The band believes in how this organization through Samaritan's Purse is taking the right approach to help the military members and their families.
"On behalf of Operation Heal Our Patriots, the staff of Samaritan Lodge Alaska, and the hundreds of injured veteran families we minister to, I extend our heartfelt appreciation to KUTLESS for their selfless dedication to this great project," states James R. Fisher CAPT CHC, USN (Ret.). "Their support, both through their music and their service, has a direct impact on veterans hearing the gospel and finding healing through Jesus our Lord."
For more information on how to obtain military tickets for a Kutless show as well as more information on the project, visit http://www.kutless.com/kmmp. Fans can also catch Kutless on the upcoming Christmas tour (dates below).
About Kutless:
Earlier this year BEC Recordings' Kutless released their newest studio release Believer to much media and sales acclaim debuting at No. 1 on the Billboard Christian & Gospel Chart as well as No. 1 on the iTunes Christian Albums chart. The album's debut radio single "Carry Me To The Cross" reached listeners across the country as it held strong at No. 1 for six weeks on the Inspo chart as well as in the Top 10 at National Christian Audience, CHR and AC Indicator charts. Now Kutless is back with the second single from Believer with the emotional "Even If," and it is already impacting radio listeners charting in the Top 20 on AC Monitored and Indicator and National Christian Audience charts.
Media also have praised Kutless' newest release stating that the lyrics are "thought-provoking, moving and requesting change" as well as that the album is the "band's crowning achievement" and "by far their best work."
This Portland, Oregon-based Kutless has emerged as one of the premiere rock, worship bands. With over two million albums sold, a RIAA Gold-selling album, AC Song of the Year in 2010, and 11 No. 1 radio singles, Kutless has transformed from that new rock band from Oregon to the one new bands look up to, the band whose music is all over the radio in multiple formats and on major tours. Believer finds Kutless using a decade of growth to deliver an expertly crafted set of songs with as much diversity in the music as there is consistency in the message.

The Reason Christmas Tour with Kutless, Moriah Peters and Dave Lubben with special message from Nick Hall. Dates Below.
12/05/12 Aberdeen, SD
12/06/12 Grand Forks, ND
12/07/12 Fargo, ND
12/08/12 Minot, ND
12/09/12 Bismarck, ND
12/12/12 St. Cloud, MN
12/13/12 Kasson, MN
12/14/12 Naperville, IL
12/15/12 West Des Moines, IA
12/16/12 Oshkosh, WI
# # #
For more info on Kutless visit the JFH Artists Database.