LEGENDARY COMPOSER/CONDUCTOR TO MAKE HISTORY IN 2013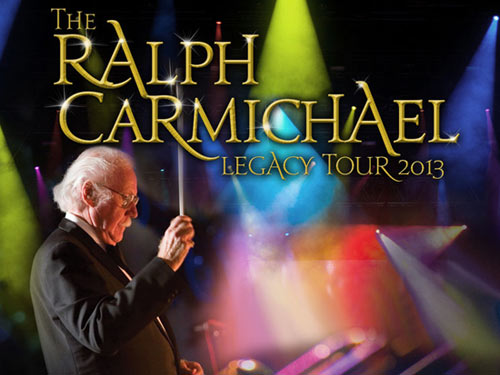 NEWS SOURCE: Adams Group
December 7, 2012
Nashville, TN -- Ralph Carmichael will make history in 2013 as the oldest conductor to embark on a 30-city tour. The Ralph Carmichael Legacy Tour will feature thirty major symphony orchestras, the Ralph Carmichael Big Band, and the Ralph Carmichael Mass Choir, recruited from local communities. Additionally, the tour has announced guest soloists in select cities to include: Larnelle Harris, The Archers, First Call, and Wayne Watson, with other artists being added soon, according to tour producers. Holt International, an adoption agency established over five decades ago, will serve as a sponsor for the tour.
Carmichael, 84, is known as the "Father of Contemporary Christian Music" for his transitory influence on the style of music that was slowly embraced by mainline churches in the early 1960s. But Carmichael's resume crosses all musical lines and includes many of the biggest names in music including Nat King Cole, Bing Crosby, Tex Ritter, The Carpenters, Rosemary Clooney, Pat Boone, Peggy Lee, and Ella Fitzgerald. Carmichael composed music for such popular television shows as "I Love Lucy," "Bonanza," "Red Skelton," and Roy Rogers& Dale Evans," and he also had a long time association with pianist Roger Williams with whom he scored the million-selling hit song, "Born Free". Carmichael also worked with World Wide Pictures, the company that produced full-length feature movies for the Billy Graham organization.
In the 1960s, Carmichael formed Light Records/Lexicon Music to be a vehicle for a new musical genre he had helped to create, which would come to be known as Contemporary Christian Music. Carmichael remembers doing church workshops introducing the new material to ministers of music, and the reaction was not always positive.
"When we recorded and published the first youth musicals (Tell it Like it Is and A Natural High), I would do workshops in major cities across the nation introducing our new publications to music directors," recalls Carmichael. "Before each workshop, I would actually get sick to my stomach, anticipating the ruckus that often erupted during the reading sessions. I would be introduced, and then, either at the beginning or during the first half hour, some local choir director would stand and announce that this music was inappropriate or even 'of the devil,' and they would invite others of the same opinion to 'leave the workshop now!' Sometimes several would leave, sometimes only a few, and sometimes nobody but the complainer. Then we would just continue the reading session. We got a lot of criticism, but we also began to get a lot of great responses from young people."
Light Records went on to sign and launch the careers of some of Christian music's most recognizable icons, including Andrae Crouch, the Winans, The Archers, and Rez Band, among others. One of Carmichael's contemporary hymns, "Reach Out to Jesus," was recorded by Elvis Presley on the singer's 1971 Grammy Award-winning album of sacred songs, He Touched Me. Carmichael was inducted into the Gospel Music Hall of Fame in 1985. His album, Strike Up The Band, was awarded Instrumental Album of the Year at the 25th Annual Dove Awards (Gospel Music's Grammy equivalent). He toured as conductor for the highly successful Young Messiah Tour for several years. And in 2001, he was made a member of the National Religious Broadcaster's Hall of Fame.
"This tour is a dream come true for me," says Carmichael. "We want the audience to be entertained, but we also want to present the Gospel loud and clear. We will use a big band, a full symphony and a mass choir to accomplish that in every city."
The producers have opened the Mass Choir participation to choir members and singers from all walks of life. To join a choir or order advance tickets for the concerts, visit the tour website: www.RalphCarmichaelLegacyTour.com.
###
About Holt International:
Holt International is a Christian organization committed to expressing God's compassion for children. While always upholding the highest ethical standards, they find and support permanent, loving families for children who are orphaned, abandoned or at serious risk of separation from their family. They provide services to ensure that children will grow and develop to their fullest potential and they lead the global community in advocating on behalf of the world's most vulnerable children. Established overseas for more than five decades, Holt is the model for international adoption. They helped formulate the Hague Convention, an international treaty that sets ethical standards of practice for adoption. And through innovation, determination and collaboration, Holt International continues to raise the standard of care provided to homeless and at-risk children throughout the world. Visit www.HoltInternational.org.