KATHY TROCCOLI OFFERS "GOODBYE FOR NOW" TRIBUTE TO SANDY HOOK VICTIMS
Song Recalls Singer's Own Story of Loss; Memorial Video Now Available on YouTube
NEWS SOURCE: Brimstone Services
December 21, 2012
Nashville, TN - Dec 21, 2012--One of Christian music's most beloved female voices, Kathy Troccoli offers her song "Goodbye For Now" as a tribute of hope to the victims at Sandy Hook Elementary in Newton, Conn.
A memorial video featuring the song is now available on YouTube. From Troccoli's 1998 release Corner of Eden, the song was written by Kathy Troccoli and Scott Brasher, after her mother passed away. She recalls, "This song was written from my own feelings of grief and loss. What I wanted to do was express the deep sorrow so many of us have known who have lost loved ones. I didn't want it to end there though. There can be a ray of hope in our grief. Through the unspeakable pain we experience in this life, there can be that light of comfort that one day we will be reunited forever with those we hold dear. Not a final goodbye-just goodbye for now."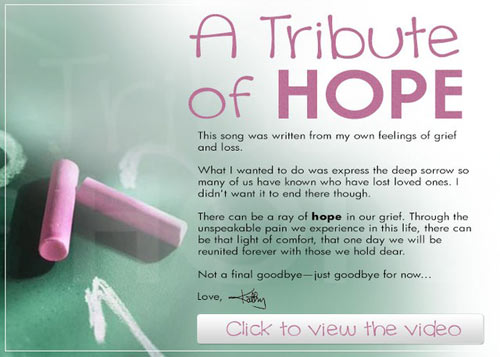 Click here
to view the video that honors those lives lost at
last week's shooting through music and photos.
For more information on Kathy Troccoli, visit: www.kathytroccoli.com, www.facebook.com/kathytroccolipage or follow her on Twitter @KathyTroccoli.
About Kathy Troccoli:
Kathy Troccoli began her music career in 1982. Now entering her third decade as a singer/songwriter, Troccoli's numerous accolades include 22 recordings, 17 No. 1 radio hits, 19 Dove Award nominations, two Dove Awards, and three GRAMMY Award nominations.
Celebrating her 30th year of music and ministry, Troccoli's anniversary CD, 30 Years/Songs- The Kathy Troccoli Collection is a treasured compilation of timeless Christian favorites including "Stubborn Love," "Go Light Your World," "My Life Is In Your Hands" as well as her chart-topping mainstream hit "Everything Changes."
Along with many other projects, she has recorded some jazz-pop CDs. They include Heartsongs, Christmas Songs, and her big band Christmas collection, Sentimental Christmas.
# # #