Wavorly Bids Farewell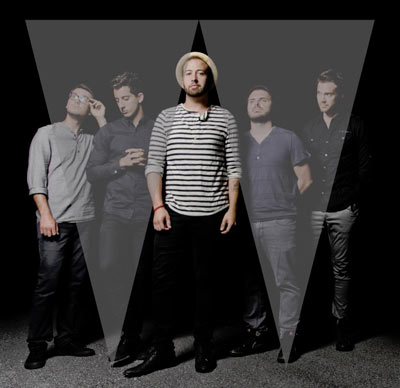 NEWS SOURCE: Wavorly / JFH
December 22, 2012
Former Flicker Records/Provident Music rock band Wavorly has decided to call it quits. Bassist Matt Lott, who has been seen on the road this summer filling in on bass for House of Heroes, made a detailed announcement following a Facebook teaser that made the announcement sans an explanation. Check out Matt's blog post below...
Dear Friends and Fans of Wavorly,
Earlier today we posted a tweet concerning all this false end-of-the-world hoopla, with a little nugget of truth attached...

"The world didn't end yesterday...but Wavorly did. Merry Christmas!!!"

It's true, we in Wavorly have decided to call it a day. There is no horrible conflict or crazy drama between us all, we just had to finally accept things as they were and face the truth in front of us. In May of this year, we did a tour with our brothers in The Wedding, Satellites & Sirens, and Pioneer, as well as accidentally bringing along the worst touring buddy you can ever have: Bitter Reality.

The shows were very poorly attended (like...10 people if we were lucky), poorly promoted, and were a good indicator of how far we had gone from the days of being able to support ourselves and our families with a touring lifestyle. We all came home from a three and a half week tour and had to immediately go back to our day jobs with nothing to show from our tour...we had pretty much just taken a month off to ride around the country and throw money out the window. Don't get me wrong, we were never rolling in the 'stacks, but for a long time we had been blessed to easily support ourselves through touring and have side jobs as a necessary evil to fight boredom at home and get extra spending money. As time has passed and we've gotten married, garnered pets, and started new lives in new places, we've seen the music industry as a whole do its world-class impression of the Titanic and seen our band coast off one proper full-length record for the better part of 5 years (we're meticulously scouring the Guiness Book of World Records to see if we have one...we'll keep you updated.) All this to say...we just couldn't afford to support ourselves through touring as Wavorly anymore.

As far as new music goes, we've proven to not be able to make good on our word to deliver new music to you guys, you who have stood faithfully by us as fans despite our consistent delays. Please accept our apology...there's just nothing that can be done at this point. We kicked around the idea of doing a kickstarter...but we ended up agreeing that no one needs ANOTHER band asking for more money to fund another album. We truly thought we'd have something new out by now, but it just didn't work out that way. It's been a big disappointment not only to you, but to us as well. We were kinda hoping that whole apocalypse thing would work out so that we wouldn't be the guys with egg on our faces...but here we are, and again, we're sorry. Maybe some of the songs will see the light of day in one form or another, but only time will tell.

We can't tell you enough how thankful we are as a band to have been able to spend such a great part of our lives traveling the country and playing music in front of all of you fine folks...words just aren't enough. We've seen God prove Himself faithful to us despite our faithlessness, doubt, and worries and gotten to hear all about how songs written from our own stories have affected your stories and even meant something to you. That is something to treasure, and I think it always proves to be the best part of being in a band...seeing how music truly is a universal language that can reach anyone. It's something special, for sure.

Well...I guess that's about it for this little farewell. We're very fortunate to have come out of all this with only one major debt looming like an evil spectre over our lives...our van, Lucille 2. If you know of any band, organization, family, or crazy rich individual who maybe has a thing for 2011 Ford Econoline 15 passenger vans, please email us here:

wavorly[at]gmail.com

We'd really like any help we can get with paying that thing off...we owe quite a bit on it. Maybe we'll make you a mix-tape of demos that never got released. Maybe not. Only one way to see...email!!!

Despite the band being done, we're all keeping busy. Dave is doing some ferocious song writing and whipping employees into shape as an official Stock Manager, and Seth is upping the ante on photographers everywhere with his own photography company (hire him!!!) as well as working with his wife's new creative project Grafitti & Pearls AND working for Proper Management as a Merchandise Manager. Teddy is currently a free agent (not for long though...if you're a band looking for an incredible, dashing, fashion-forward type drummer you'd better hit him up quick!) and touring with the Winter Jam concert monolith, and both Coon and Jaime are holding things down family style in Mississippi. Coon has been working as a Teaching Assistant and Jaime (recently married!) has been playing drums for worship teams in the Tupelo area as well as pretty much holding the world together with his infinite wisdom. And if you happen to see a band called House of Heroes out on the road, you might see me plucking the ol four string...maybe not though, I'm pretty sneaky.

If you'd like to keep up with us in our post-Wavorly adventures, please follow us on our respective social networking platforms:

Dave:
Instagram: @dw_stovall
Twitter: @dw_stovall
Facebook.com/wavorlydave

Matt:
Instagram: @alottamatteo
Twitter: @alottamatteo
Facebook.com/wavorlymatt

Seth:
Instagram: @wavorlyseth @graffitiandpearls
Facebook.com/wavorlyseth or Facebook.com/sethfarmerphotography

Teddy:
Instagram: @cleverinstgrmname
Twitter: @wavorlyteddy
Facebook.com/teddy.boldt

Coon:
Instagram: @coonmatic
Twitter: @coonmatic
Facebook.com/wavorlycoon

Jaime:
Instagram: @sweetbabyjd
Twitter: @sweetbabyjd
Facebook.com/sweetbabyjd

Again...thank you so much for the part you've played in our lives. Being in a band at any level is truly "living the dream," and I'm here to tell you we couldn't have lived this dream without you.

From all of us in Wavorly (past, present, and...future?), we hope you have a fantastic holiday season and may God bless you in the new year.
-Matt
For more info on Wavorly visit the JFH Artists Database.