Minneapolis based group Silverline signs with DREAM Records and prepares for their third studio album's release in April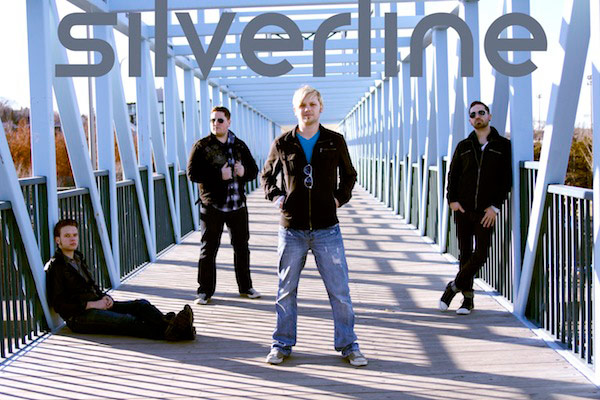 NEWS SOURCE: DREAM Records
January 8, 2013
January 2013 - Los Angeles, CA - DREAM Records announces a new artist to it's growing roster with Minneapolis, MN natives, Silverline. The group, will be releasing it's third studio album and first with DREAM entitled, "Lights Out" on April 23rd worldwide. The album was produced by producer, Ben Kasica (formerly of Skillet). The band will also be announcing new tour dates in support of the release with Acquire The Fire and various festivals as well too.
General Manager of DREAM Records, Lance Brown, shares, "DREAM Records' is VERY excited about Silverline. We've been watching their career grow and when we had an opportunity to work with them we jumped at the chance."
"We believe in Silverline's vision as a band," adds Dave Hanley, Founder and President of DREAM Records and lead singer of PRESS PLAY. "DREAM is excited to partner with Silverline as we help share in their passion and support their ministry."
"We're extremely thankful for the new relationship with Dream Records", says Ryan Edberg, Silverline's lead singer. "We value their commitment to Christian music and the impact that it can have on lives. We look forward to releasing our new music which we feel is the best Silverline has ever written."
DREAM Records & Silverline are putting the final touches on artwork which will also be announced shortly in anticipation of their release. For more information about their the group and their new album & tour dates go to www.DreamRecords.org and www.SilverlineMusic.com
ABOUT DREAM RECORDS
DREAM was founded in 2008 to provide artists with a genuine approach to how real artist development should be done. By allowing for a partnership as a business model, Dream's artists empower themselves to develop and carry out a real vision for their lives as they affect other people's lives with their music and message. Incorporating social media, press, radio and touring it's allowing it's artists grow together as a family.
ABOUT SILVERLINE
Having shared the stage with some of the top bands in Christian music (POD, Newsboys, TFK, RED, Sanctus Real, Hawk Nelson, etc.), Silverline has developed a great live show. They have also excelled on Christian radio with the #1 songs, Broken Glass and Shine A Light. These professional achievements are important to the band as a door opener to ministry because Silverline isn't just happy with accomplishments validating their ability, but rather paving the way for opportunities to share the life changing Gospel of Christ.
# # #
For more info on Silverline visit the JFH Artists Database.