"The 3 in 1 Tour" Partners with Food For the Hungry To Bring Together Three Award Winning Artists For One-of-a-Kind Concert Experience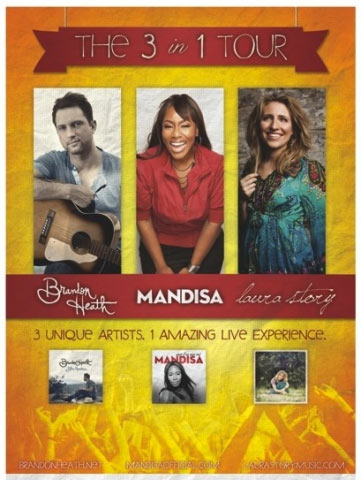 NEWS SOURCE: The M Collective
January 10, 2013
Nashville, Tenn. (January 10, 2013) - Pairing some of today's most popular and acclaimed recording artists, "The 3 in 1 Tour" will kickoff this spring with three very unique hitmakers collaborating to bring their celebrated sounds into one highly anticipated live experience. The national tour, which will unite Dove Award winners and GRAMMY®-nominated artists Brandon Heath, Mandisa and Dove and GRAMMY® winner Laura Story, embarks on a 23-city trek starting February 21 and wrapping April 14, 2013. International relief and development organization Food for the Hungry has partnered with "The 3 in 1 Tour" to bring awareness to its efforts alongside Heath, Mandisa and Story.
Launching in Pensacola, Fla., the tour will make stops in markets including Orlando, Pittsburgh, Cincinnati, Houston, Indianapolis and St. Louis, among others, before wrapping in Kansas City, Mo. GRAMMY®-nominated singer-songwriter Jamie Grace will also make special appearances on select dates, filling in for Laura Story. For additional information, see the full tour schedule listed below or visit any of the participatings artists' websites (links below).
Concertgoers should expect a night where the artists will collaborate on each other's songs and an experience full of fan favorites, including multiple No. 1 singles from Heath, Mandisa and Story. All three artists will also highlight tracks from their newest releases, including Brandon Heath's Blue Mountain, Mandisa's What If We Were Real and Laura Story's Blessings.
For more information on tickets and event dates, please visit any of the artists' websites: BrandonHeath.net, MandisaOfficial.com, LauraStoryMusic.com and JamieGrace.com.
"The 3 in 1 Tour" Dates
Feb 21 - Marcus Pointe Baptist, Pensacola, FL
Feb 22 - Northland Church, Orlanda, FL
Feb 23 - Columbia First Nazarene, Columbia, SC**
Feb 24 - Smoky Mountain Center PAC, Franklin, NC
Feb 28 - Morrison Heights Baptist Church, Clinton, MS
Mar 1 - AR/FBC Benton, Benton, AR
Mar 2 - Mt. Pisgah, Atlanta, GA
Mar 3 - TBD, Monroe, LA
Mar 7 - Azalea City Church of God, Valdosta, GA
Mar 8 - The Summit Church, Durham, NC
Mar 9 - Metropolitan Theatre, Morgantown, WV
Mar 10 - Lancaster Bible College, Lancaster, PA
Mar 14 - Hawthorne Gospel Church, Hawthorne, NJ
Mar 15 - Orchard Hill Church, Wexford, PA
Mar 16 - North Syracus Baptist Church, North Syracuse, NY
Mar 17 - Tri County Assembly, Fairfield, OH
Mar 21 - Adler Theatre, Davenport, IA**
Mar 22 - Point of Grace Church, Des Moines, IA**
Apr 4 - Trinity Church, Texarkana, TX*
Apr 5 - Glad Tidings Church, Lake Charles, LA*
Apr 6 - Berry Center, Cypress, TX*
Apr 7 - Temple Baptist Church, Temple, TX*
Apr 11 - Grace Church, Middleburg Heights, OH
Apr 12 - Calvary Temple, Indianapolis, IN
Apr 13 - Family Arena, St. Louis, MO
Apr 14 - Raytown Baptist Church, Raytown, MO
All dates are subject to change
*Jamie Grace will fill in for Laura Story
**Brandon Heath and Mandisa only
About Brandon Heath:
Since Brandon Heath's debut on Reunion Records with Don't Get Comfortable (2006), he has become one of Christian music's most beloved and respected artists and songwriters. Heath has twice been honored as GMA Male Vocalist of the Year (2009 and 2010), additionally garnering an Emmy Award, five GRAMMY® nominations, an American Music Award nomination and multiple GMA Dove Awards and songwriting honors. His award-winning songs and signature vocals reflect a soaring radio career that includes four No. 1 hits: "I'm Not Who I Was," "Wait and See," the 2009 GMA Dove Award-winning Song of the Year, "Give Me Your Eyes" and the eight-week chart topper, "Your Love." Heath, a Nashville native, first began writing at age 13 and credits his hometown's legendary hotspot for songwriters, the Bluebird Café, as the place he first experienced music that moved him. His artistry and ability to connect with audiences have compelled countless media outlets across the nation to platform his story and music. Highlights include Billboard magazine, "CBS Evening News with Katie Couric," Relevant magazine, a 2011 feature by the Wall Street Journal and selection as a presenter during the 54th Annual GRAMMY® Awards. Other key spotlights include Discovery Channel's "On The Case With Paula Zahn," which highlighted "Give Me Your Eyes" (What If We 8/19/2008), and a feature by The New York Times Sunday edition, touting Heath as a GRAMMY-nominated newcomer "that shouldn't be allowed to slip through the cracks." Heath's third album, Leaving Eden (1/18/2011), debuted at No. 1 on the Billboard Christian Sales chart and is supported by non-stop direct-support and headlining tours. Most recently, Heath released Blue Mountain, his fourth full-length studio album, on October 9, 2012, and its debut single is Top 5 and climbing. For more information on Brandon Heath, please visit: BrandonHeath.net.
About Mandisa:
Three-time GRAMMY® nominee Mandisa's discography includes True Beauty, It's Christmas, Freedom, What If We Were Real and her remix EP, Get Movin' on Sparrow Records. This past fall she performed her hit single "Good Morning" on the highest rated morning show, ABC's "Good Morning America." The Season 5 American Idol finalist is also an author with the release of "Idoleyes: My New Perspective on Faith, Fat & Fame." Mandisa was one of several Idols selected to open Walt Disney World's American Idol Experience in early 2009. With over 635,000 albums sold, Mandisa's music and message continues to connect with fans. Her album, What If We Were Real, is her fastest selling album ever, tracking 80% ahead of her previous album and has sold over 230,000 units to date. The album features the breakout radio hits "Good Morning," "Waiting For Tomorrow," and the No. 1 AC single, "Stronger." With widespread media coverage including The Today Show, LIVE! With Regis and Kelly, E!, Extra, Entertainment Tonight, US Magazine, People Magazine and CNN, this American Idol alum and three-time Grammy nominee continues to be a voice of encouragement and truth to women facing life's challenges. For more information on Mandisa, please visit MandisaOfficial.com.
About Laura Story:
Laura Story, a talented worship leader and songwriter known for penning hit songs such as "Indescribable" made famous by Chris Tomlin and the smash inspirational hit "Blessings," made her music debut in 2008 with her first release Great God Who Saves (Fair Trade Service).Great God Who Saves garnered her four Dove nominations in 2009, at which she took home her first award for "Inspirational Album of the Year." In 2011, she also nabbed another nomination for "Female Vocalist of the Year." Her hit single "Mighty To Save" earned a No. 1 Soft AC/Inspo and Top 10 AC hit at Christian radio. Also in 2011, Story revealed 12 new inspirational tracks on her sophomore release titled Blessings. Story teamed up with producer Nathan Nockels (Passion, Philips, Craig & Dean, Point of Grace) and delivered a worship project that exudes constant threads of pop energy and singer-songwriter warmth. The title track quickly became a fan favorite, radio smash and multi-award winner upon release of the album. It topped the iTunes® Christian/Gospel Top Songs chart and held the No. 1 spot for 28 consecutive weeks, the album held the No. 1 spot for three consecutive weeks on Billboard's Contemporary Christian Overall chart, digital single sales for "Blessings" reached Gold status, the track held the No. 1 spot at Christian AC, Inspo and the National Audience radio charts for multiple weeks, and Story took home the GRAMMY® Award for Best Contemporary Christian Song, the Billboard Music Award for Top Christian Song as well as Dove Awards for Song of the Year, Pop/Contemporary Song of the Year, Pop/Contemporary Album of the Year and Songwriter of the Year. Her first book, What If Your Blessings Come Through Raindrops?, released in 2012 and was inspired by her Grammy and Dove Award-winning hit song, "Blessings." Story will release a new studio album in 2013. For more information on Story, please visit LauraStoryMusic.com.
About Jamie Grace:
Hailing from outside of Atlanta in Lithonia, Georgia, GRAMMY® nominee Jamie Grace is a 20-year-old-college student who, aside from her career and touring as a singer-songwriter, is also studying children's ministry. At age 11, Jamie Grace was diagnosed with Tourette Syndrome, and has since traveled the country sharing her story and faith through music and speaking. Upon signing Jamie Grace, multiple GRAMMY® winner TobyMac remarked "I have not been this excited to work with an artist in a long, long time." Though she just released her first, full-length record in September 2011, Jamie Grace has been a part of the well-known Revolve tour, scored two No. 1 radio hits and has had a highly successful EP. In addition, she won the 2012 GMA Dove Award for New Artist of the Year. For more information on Jamie Grace, please visit JamieGrace.com.
#####
For more info on Brandon Heath visit the JFH Artists Database.
For more info on Mandisa visit the JFH Artists Database.
For more info on Laura Story visit the JFH Artists Database.
For more info on Jamie Grace visit the JFH Artists Database.