THE ALMOST TO RELEASE "FEAR INSIDE OUR BONES" APRIL 9
The Almost Return to New York City for Two Shows This Saturday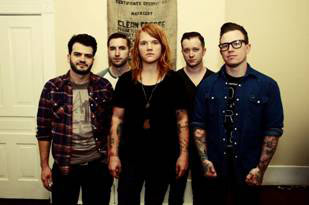 NEWS SOURCE: MSO PR
January 17, 2013
THE ALMOST are set to release their third album FEAR INSIDE OUR BONES for Tooth & Nail/EMI on April 9. The group--Aaron Gillespie (vocalist/lyrics/guitar/drums), Jay Vilardi (guitars) Dusty Redmon (guitars), Jon Thompson (bass) Joe Musten (drums)--has hit the road to preview the new songs and play for their increasing fan base around the country. For all dates announced so far and up-to-date information, visit: http://thealmost.com.
On Saturday, January 19, THE ALMOST hit New York City for two shows. They'll appear at the Apple store in SoHo at 3:00pm for a moderated discussion, live fan Q&A and to perform an acoustic set. The acoustic performance will feature songs from their first two albums, Southern Weather and Monster, Monster as well as their new song, "Ghost" off the forthcoming FEAR INSIDE OUR BONES. Later that night, they'll perform live at The Studio at Webster Hall at 8:00PM.
Listen to "Ghost" here:
http://www.youtube.com/watch?v=uNdJThUf2hI
WHERE & SATURDAY, JANUARY 19
WHEN: Apple Store - SoHo
103 Prince Street (corner of Prince and Greene)
New York City, NY 10012
3:00 PM: Intro from Apple
3:05 PM: THE ALMOST moderated discussion
3:25 PM: Audience Q & A
3:30 PM: Performance

The Studio @ Webster Hall
125 East 11th Street
New York, NY 10003
Doors: 7:30 PM/ Show: 8:00 PM
For more info on The Almost visit the JFH Artists Database.