RAP/HIP HOP ARTIST ANDY MINEO DEBUTS NEW MUSIC VIDEO
"AYO" ON REACHRECORDS.COM TODAY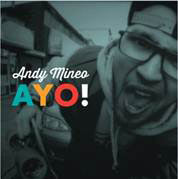 NEWS SOURCE: Rogers & Cowan
January 31, 2013
Los Angeles, Calif. (January 31, 2013) Reach Record's latest prodigy Andy Mineo, makes a splash in the industry today with the premiere of his new music video "AYO" on www.reachrecords.com.
Produced and directed by Squint & ORIGN8 Visuals, the video was shot in Mineo's hometown of Washington Heights, NY and features a custom-made skateboard made by SalemTown Board Co. SalemTown Board Co., designs handmade skateboards and to employ, train, and mentor urban youth in Nashville, TN. Mineo will auction off the board online in April, where all proceeds will be given back to them. "AYO" embraces the 116 movement, a crusade that is raising up a generation of Believers to live an unashamed lifestyle as full integrated followers of Christ.
"I penned the song as an invitation," says Mineo. "Calling people to come and see what we are all about. I talk about the things I love: skateboarding, my 116 family, my city, my faith, etc. It's all piled into one high energy record and video."
Thousands were introduced to Mineo last year from his stellar performances on the Unashamed Tour (Reach Records) and through his vocal contributions on Lecrae's Rehab, Flame's Captured and Tedashii's Blacklight, Ambassador's Stop the Funeral, among many other notable projects.
"Andy has a unique gift of seamlessly integrating music styles and genres without sacrificing quality," said Lecrae, Grammy ® nominated artist. "He is a born leader and inspiring artist." The "AYO" track, which is now available on iTunes ®, is a musical sneak peek for Mineo's debut album Heroes for Sale slated to release this spring through Reach Records. For more information, please visit www.reachrecords.com.
###
ABOUT REACH RECORDS
Reach Records and ReachLife Ministries strive to, "bridge the gap between biblical truth and urban context." Founded in 2003, Reach Records is a Christian music record label dedicated to using music as a means of reaching the urban community in a biblically sound way. While Reach Records employs music to reveal biblical truth, ReachLife Ministries aims to empower ministry leaders with this music in order to grow the urban church. For further information and a list of upcoming Reach Records and ReachLife Ministries events, please visit http://reachrecords.com. For more information about ReachLife please visit http://reachlife.org/.