sixstepsrecords Artist and Acclaimed Worship Leader Matt Redman
Honored with Two GRAMMY® Awards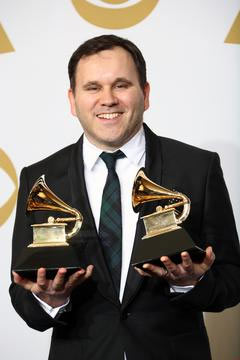 Photo: Frederick M. Brown/Getty Images Entertainment/Getty Images
NEWS SOURCE: The M Collective
February 11, 2013
Nashville, Tenn. (Feb. 11, 2013) - sixstepsrecords' Matt Redman won a total of two GRAMMY® Awards last night at the 55th Annual GRAMMY® Awards in Los Angeles. Hailed as one of the most influential songwriters of this generation, Redman picked up his first GRAMMY® Awards yesterday-one as an artist, one as a songwriter-winning in the category of Best Gospel/Contemporary Christian Music Performance in addition to Best Contemporary Christian Music Song for his hugely popular hit, "10,000 Reasons (Bless The Lord)." Written by Redman along with songwriter Jonas Myrin, the song made an impressive 16-week run at No. 1 on Christian Radio in 2012.
Redman's song "10,000 Reasons (Bless The Lord)" continues to impact listeners all around the globe. As his first No. 1 single and with its impressive four-month residency at No. 1, "10,000 Reasons (Bless The Lord)" was honored with two GRAMMY® nominations in the categories for Best Contemporary Christian Music Song and Best Gospel/Contemporary Christian Music Performance. In addition to the song nominations, Redman received a third GRAMMY® nod this year for Best Contemporary Christian Music Song as a songwriter on the song, "White Flag."
In addition, sixstepsrecords received an additional nomination with internationally acclaimed worship leader Chris Tomlin's nod for his songwriting contribution to "White Flag," nominated for Best Contemporary Christian Music Song. His eighth GRAMMY® nomination, Tomlin co-wrote "White Flag" with Jason Ingram, Matt Maher and Redman. The song is from the live album Passion:White Flag, but also appears on the 2012 GRAMMY® winner's recent Billboard 200 chart-topping album, Burning Lights.
About Matt Redman
Matt Redman's songwriting is synonymous with integrity and continues to impact churches around the world. Leading a generation of worshipers, his songs have been recorded by Chris Tomlin, Michael W. Smith, David Crowder*Band, Rebecca St. James, Tree 63, Kutless and Passion among others. A key songwriter for today's church and active worship leader for Passion conferences around the world, Redman has a history of success having garnered eight Gospel Music Association Dove Awards and recently received a GRAMMY® nod for "Best Gospel Song" for "Our God," featured on Passion: Awakening. Redman's latest studio album, 10,000 Reasons, is his best-selling album to date and includes his 16-week No. 1 hit single and GRAMMY® Award-winning song, "10,000 Reasons (Bless The Lord)" with digital track sales of over 250,000. Additionally, Redman has 26 songs in the CCLI Top 500, with six populating the Top 50. Redman recently released his essential collection titled Sing Like Never Before which brings together some of his favorite classics into one compilation album.
About Chris Tomlin
With nine albums, ten No. 1 radio singles, a GRAMMY® Award and eight additional nominations, two Billboard Music Awards, 21 Dove Awards, a platinum and four gold albums to his credit, Chris Tomlin is among the most well-known and influential artists in contemporary Christian music. Referred to by Time magazine as "most likely the most often sung artist anywhere," Tomlin also has 15 of the Top 100 CCLI songs with 4 of them being in the top 10. ASCAP's 2007 Songwriter of the Year, Tomlin's "How Great Is Our God" was his first No. 1 on the CCLI Top 25, moving to No. 1 after becoming one of the fasting rising modern day hymns in CCLI chart history. In addition to having sold more than 4.2 million albums and over 6 million digital tracks, Tomlin made history as his single "Jesus Messiah" (Hello Love) garnered 97 adds at radio its first week and skyrocketed to No. 1, making it the biggest ever add date in Christian radio history. In the midst of his record breaking success, and continuing his role as worship leader at Passion City Church in Atlanta, GA, Tomlin continues touring and leading at Passion Conference gatherings across the US and worldwide. His ninth studio album, Burning Lights, debuted at No. 1 on the Billboard 200 chart upon release in January 2013 and features the hit single "Whom Shall I Fear [God of Angel Armies]."
About sixstepsrecords:
Founded in 2000 by Louie Giglio, sixstepsrecords is a worship label and a division of Passion Conferences. sixstepsrecords' artists include Chris Tomlin (Burning Lights), Crowder (Give Us Rest), Charlie Hall (The Rising), Matt Redman (10,000 Reasons), Christy Nockels (Into the Glorious), Kristian Stanfill (Mountains Move), and Passion (Passion: White Flag). The label partners with Sparrow Records/EMI CMG Label Group for A&R, marketing, sales and distribution operations. For more information on sixsteprecords, visit: www.sixstepsrecords.com.
[Get Connected with Matt Redman]
Website // http://www.mattredman.com
Twitter // http://www.twitter.com/matt_redman
Faceboook // http://www.facebook.com/Matt-Redman
YouTube // http://www.youtube.com/user/OfficialMattRedman
iTunes // http://smarturl.it/singlikeneverbefore
[Get Connected with Chris Tomlin]
Web site // http://www.christomlin.com
Facebook // http://www.facebook.com/christomlin
Twitter // http://www.twitter.com/christomlin
# # #
For more info on Matt Redman visit the JFH Artists Database.