K-LOVE & Air1 Radio and TuneIn Announce Alliance
Leading Christian Radio Networks K-LOVE And Air1
Increase Digital Reach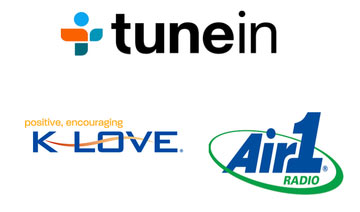 NEWS SOURCE: Merge PR
February 12, 2013
PALO ALTO, Calif. & ROCKLIN, Calif. - February 12, 2013 - TuneIn, the leading service for listening to music, sports and news streams from around the world, and Educational Media Foundation (EMF), the parent company for K-LOVE and Air1 Radio networks, recently announced a new strategic alliance. This partnership, which officially commenced February 7, 2013, extends the reach of EMF's 700 radio stations to over 40 million monthly active listeners on TuneIn.
"K-LOVE and Air1 are committed to offering meaningful content, and this alliance with TuneIn increases our potential of reaching more listeners from anywhere around the world," said David Pierce, Chief Creative Officer, K-LOVE/Air1. "This partnership with TuneIn is another exciting step in helping us reach more listeners with our unique programming."
EMF operates the top-ranked radio networks K-LOVE and Air1, offering listeners full-time contemporary Christian music and compelling programming that inspires and encourages listeners to deepen their relationship with God. Through EMF's alliance with TuneIn, this programming is now available to listeners through more than 200 different TuneIn platforms including smartphone apps, connected vehicle dashboards, Internet home entertainment systems and online at TuneIn.com.
"TuneIn aims to give listeners around the world the highest quality radio experience, anywhere, anytime," added Kevin Straley, VP Programming of TuneIn. "Aligning with EMF and extending the company's beloved programming on our platform brings us closer to that vision."
# # #
About TuneIn:
TuneIn lets people listen to the world's music, sports, talk and news from wherever they are, with over 70,000 AM, FM, HD and Internet radio stations and more than two million on-demand programs streaming from every continent across 200 connected devices. The company raised venture funding from General Catalyst Partners, Sequoia Capital, Google Ventures and Jafco Ventures, and is headquartered in Palo Alto, Calif.
About EMF's K-LOVE & Air1:
Air1 Radio is the Positive Alternative, featuring artists such as Switchfoot, TobyMac, and Skillet. Air1 is a non-profit, listener-supported Christian music radio network devoted to sharing the hope of Jesus in an authentic way. Air1.com.
K-LOVE plays positive, encouraging contemporary Christian music from artist like Chris Tomlin, Casting Crowns, Third Day, and Matthew West. Our music and message is designed draw people toward an authentic relationship with God while living out real life in the real world. KLOVE.com.