Audio Adrenaline Kicks Off Their 30+ City "Kings & Queens Tour" March 1
Joined By Group 1 Crew, Seventh Day Slumber and Manic Drive;
Exclusive VIP Experience Available
Brand New Album Kings & Queens Slated To Release March 12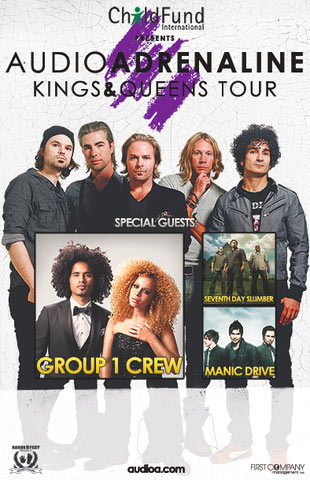 NEWS SOURCE: Merge PR
February 27, 2013
Nashville, Tenn - 27 February 2013 - Audio Adrenaline kicks off their highly anticipated "Kings & Queens Tour" this Friday, March 1 in Morganton, North Carolina. The tour will run in 30+ cities across the U.S. and is sponsored by ChildFund International. Audio Adrenaline will release their debut album Kings & Queens March 12 on Fair Trade Services.
The "Kings & Queens Tour" will feature Dove Award winning bands Group 1 Crew and Seventh Day Slumber, as well as Manic Drive, winner of GMA Canada's 2012 Hard Rock/Alternative Album of the Year.
Audio Adrenaline is offering fans a VIP Experience throughout the tour. This exclusive ticket package includes a pre-show entrance and priority check-in, an autograph session and Q&A with the band. VIP Experience ticket holders will also receive a collector's edition laminate and limited edition Audio Adrenaline photo.
As the band prepares to give audiences an inspirational yet electric show, fans can anticipate hearing Audio Adrenaline's biggest hits along with music from their new album Kings & Queens. Concertgoers will also be introduced to Audio Adrenaline's non-profit, Hands & Feet Project, an organization dedicated to providing long-term, family-style care for orphaned and abandoned children in need of a home and family.
Adding momentum to the tour, Audio Adrenaline's Fair Trade Services debut Kings & Queens will release March 12. Kings & Queens conveys a passion and energy similar to previous Audio Adrenaline albums but with a renewed mission for Hands & Feet Project, as a portion of the proceeds will directly benefit the non-profit. Former lead vocalist and current Audio Adrenaline songwriter, Mark Stuart shares, "Honestly, I feel this is one of the best records, if not THE best, AA has ever put together." The first radio single "Kings & Queens" is currently available on iTunes.
Tour dates for the "Kings & Queens Tour" are listed below. For the most updated schedule and to purchase tickets, be sure to visit AudioA.com and the tour's official webpage at AudioA.com/Tour.
# # #
Audio Adrenaline Kings & Queens Tour Dates:
March 1- Morganton, NC, City of Morganton Municipal Auditorium
March 2- Washington, NC, Washington High School
March 3- Lancaster, PA, Lancaster Bible College
March 7- Baxter, MN, Heritage Assembly of God
March 8- Willmar, MN, Willmar Evangelical Free Church
March 9- Minneapolis, MN, North Central University Sanctuary
March 10- Green Bay, WI, Radisson Hotel & Conference Center
March 14- Vero Beach, FL, Vero Beach Performing Arts Center
March 15- Bellville, GA, Pinewood Christian Academy
March 16- Columbus, GA, Calvary Baptist Church
March 17- Gaffney, SC, Broad River Electric Auditorium
March 21- Philippi, WV, Haven of Hope Worship Center
March 22- Biddeford, ME, New Life Church
March 23- Ocean City, MD, Roland E. Powell Convention Center
March 24- Greencastle, PA, Greencastle High School
April 5- Enid, OK, Oakwood Christian Church
April 6- Burleson, TX, Venue 510
April 7- Tulsa, OK, SpiritBank Event Center
April 11- Indianola, IA, Indianola Community Church
April 12- Naperville, IL, Compass Church
April 13- Lebanon, MO, Boswell Auditorium
April 14- Lenexa, KS, Lenexa Baptist Church
April 20- Fort Smith, AR, 180 Youth Center
April 25- Louisville, KY, Okolona Christian Church
April 26- Fort Wayne, IN, First Assembly of God
April 27- Cincinnati, OH, The Underground
April 28- Port Huron, MI, McMorran Theater
May 2- Lake Charles, LA, Lake Charles Civic Center
May 4- Greenville, IL, Bond County Fairgrounds
May 5- Salina, KS, Bicentennial Center
About Audio Adrenaline:
After five years away, Audio Adrenaline is back -- by popular demand and with a renewed mission. The faces may look a little different, but the heart and passion of this GRAMMY-winning band remains unchanged. Yes, that's Kevin Max of dcTalk and solo fame at the mic and founding member Will McGinniss on bass. The new lineup is rounded out by CCM vets Dave Ghazarian (Superchick), Jared Byers (Bleach), and singer-songwriter Jason Walker. Former front man and co-founder Mark Stuart remains very involved and contributed to many of the songs for the new album.
This talented group of like-minded musicians shares a common goal: to be the voice for orphans in Haiti and around the world. Lead single, "Kings & Queens," is an orphan anthem that celebrates the transformation God can bring about. The album's remaining fresh rock tracks are just as powerful. The new Audio Adrenaline is creating music that will move you while making the world a better place for children in need. Thanks to the band, Know Hope and AA's label, Fair Trade Services, a portion of proceeds will directly benefit the work of Hands & Feet Project. For more information, please visit AudioA.com and handsandfeetproject.org.
About ChildFund International:
ChildFund International began in 1938 in an effort to support orphanages for the children who had been left without homes or families in the wake of the second Sino-Japanese War. American individuals funded the orphanages in China through sponsorships. Today, ChildFund International has grown into a global force working for children around the world. Now operating in 31 countries, approximately 17.8 million children and their family members were given assistance in 2012. ChildFund International works with children from birth to young adulthood, families and communities to provide a better environment for children to succeed. ChildFund.org
###
For more info on Audio Adrenaline visit the JFH Artists Database.