MULTI-PLATINUM ARTIST DAVID PHELPS TO TOUR EUROPE THIS SUMMER SHOWCASING HIS CURRENT RELEASE CLASSIC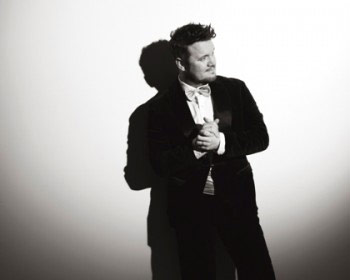 NEWS SOURCE: Big Machine Media
March 6, 2013
(New York, NY - March 5, 2013) - Multi-Platinum artist, 2 x Grammy Award Winner, 4 x Dove Award Winner David Phelps, has undoubtedly made a strong name in different facets of the music world. Now after releasing his Classic solo album, Phelps is preparing to make a strong name in a new arena. Not only does David have big plans for the summer, but he also has plans for the classical music world.
After wrapping up his tour with Gaither Vocal Group, David will kick off his European Classic tour in the month of June with eleven stops from Faroe Islands to Germany. He will also be stopping in Beirut in early July.
David's much anticipated solo album Classic includes 13 arias, classical anthems and newly arranged pop songs with original compositions that all reflect upon a lifetime of achievement and exemplify his power house tenor vocal prowess. He says, "I feel like this genre of music fits my vocal gifts, and I believe it is the next anchor point of my journey." Phelps' first confirmation of doing such an album was on a very organic level.
This isn't David's first rodeo in Europe, but it is in the world of classical music. The Classic album David released is what sparked the interest to take his tour off US grounds. The recording of Classic is a special one to Phelps as not only a singer, songwriter, arranger, and a producer but it is the recording that he has been training for all of his life He began performing solo the renowned Puccini aria "Nessun Dorma," after revering Luciano Pavarotti's consummate recording since high school. "I didn't know how audiences would take it," Phelps admits. "To my surprise, night after night, they'd be on their feet before the song even finished. It was amazing. When it kept getting the same reaction, I realized something was happening here."
Starting from about 100 titles Phelps whittled it down to 13 powerful compositions and recorded it with a full choir and the Nashville Recording Orchestra. The album shows a very personal side to Phelps as it showcases several family members and the journey and struggles of the path of life while making this record. Both of Phelps' daughters, his sister, and mother lend to the vocals and professional trumpeting on the album. Phelps' faced a bitter sweet moment with his sister, Sherri Proctor, who had toured with him for 15 years accompanying him on vocals in "You'll Never Walk Alone." During this time she was fighting breast cancer and sadly, lost her battle this past summer. "It's the sweetest thing about this whole project for me, and inspired a lot of my emotion in the song," he says. "It's bittersweet and heartbreaking, but something I will cherish forever."
And now, with the 2012 release of Classic, Phelps is excited to share a side of his talent that audiences may not be aware of, while exposing them to what may be a new musical style for many "This certainly creates interest for me artistically, but I also hope to open a door for folks who either don't know or may have previously discarded classical music. If the album helps them discover this style and in the process elevates or moves them, I've probably done my job as an artist and a human being about as good as I can," concludes Phelps.
Track Listing:
Panis Angelicus
Joyful, Joyful
O Mio Babbino Caro
The Dream
You'll Never Walk Alone
What a Wonderful World
Agnus Dei
Morning Has Broken/ Morning Chorus (Medley)
Donna Non Vidi Mai
The Lord's Prayer
Bring Him Home
America the Beautiful/God Bless America (Medley)
Goin' Home

Europe Tour Dates
June 18-Faroe Islands
June 20-Keuruu, Finland
June 21- Oslo, Norway
June 22-Aalesund, Norway
June 23-Haugesund, Norway
June 25-London, England
June 27-Glasgow, Scotland
June 28-Amsterdam, Netherlands
June 29-Belfast, Northern Ireland
June 30-Lemgo, Germany
July 2-Beirut, Lebanon

For more information and to stay up-to-date with David Phelps, please visit:
www.davidphelps.com/
www.facebook.com/davidphelps
twitter.com/DPhelpsMusic

###

For more info on David Phelps visit the JFH Artists Database.