JESUS IS___. HITS THE NY TIMES BESTSELLER LIST THIS WEEK
BOOK DEBUTS ON USA TODAY'S BEST-SELLING BOOKS TOP 150 LIST AND GARNERS STRONG FOOTHOLD ON RETAIL WEBSITES ACROSS THE BOARD WHILE GENERATING TWITTER & INSTAGRAM CELEBRITY ENDORSEMENTS FROM JUSTIN BIEBER, SELENA GOMEZ AND KEVIN DURANT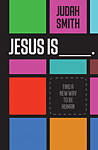 NEWS SOURCE: Rogers & Cowan
March 15, 2013
Los Angeles, Calif. (March 15, 2013) - Pastor, speaker and author Judah Smith hits the NY Times Bestseller list this week (week of March 24, 2013) with his latest release, Jesus Is ___.: Find a New Way to Be Human. Published through Thomas Nelson, Inc., the book reached the NY Times No. 11 bestsellers slot (Advice, How-To, Misc. Paperback) while debuting on USA Today's Top 150 Best-Selling Books chart and garnering a strong foothold on retail websites across the board. Jesus Is ___. climbed to the no. 10 slot on Amazon's bestseller chart, hit no. 1 in Christian books on Amazon and reached the no. 2 position on Barnes & Noble's Top 100: Book Bestsellers list.
"Our team is ecstatic about the sales performance of Jesus Is __. at launch," says Brian Hampton, Senior Vice President & Publisher, Nelson Books. "I believe the book is hitting bestsellers lists because it meets a deep, universal need. Judah Smith is everything a publisher could hope for-as a collaborative, innovative author and an example of the message that Jesus shows us a new way to be human."
In addition to sales success and media recognition, Jesus Is ___. has also generated Twitter and Instagram endorsements from notable celebrities including, Justin Bieber, Selena Gomez and Kevin Durant:
'"When it comes to sin, the only one who has a right to condemn others is Jesus. And he refused,' Judah Smith. 'Wise words from Judah."' - Kevin Durant, Small Forward for the Oklahoma City Thunder
"So proud of my pastor. This book comes out the 26th. Judah is the best speaker of our generation Read this book u won't regret it." - Justin Bieber
"I know I already posted this but I'm gonna put it up again to show love to my big bro Judah I love u Man U inspire me. When u have a moment of weakness ask god to be with u and bring his peace. I know for a fact it helps :." - Justin Bieber
"@judahsmith so proud to know you! Congrats on your book! Can't wait to read it" - Selena Gomez
In Jesus Is ___., Judah digs deep to answer the most common and difficult questions about Jesus, one of history's most famous but least understood figures. Judah explores a number of topics that reveal Jesus' purpose for coming, what he accomplished while he was on earth, and what that means
By presenting the Bible in a down-to-earth style, often paraphrasing Bible narratives with a good dose of humor, Judah has written the book for real people facing real issues. His message of simple faith and grace is just as powerful for lifelong Christians as it is for those who have never heard the gospel.
"I am incredibly honored to know enough people are connecting with the message of this book," says Judah. "I can't think of a better mission in life. I'll probably write more books, but I doubt I will ever write one as important as this. At the same time, this book barely scratches the surface of who Jesus is. Discovering the depths of his love has become my obsession, my passion, and my delight."
To coincide with the recent success of his latest book, Judah is taking his message to the masses across the nation through multiple appearances and interviews with leading television, radio, and print outlets such as FOX & Friends, foxnews.com Live, Fox News Insider, CNN's "Starting Point" and "Showbiz Tonight," USA Radio Network, US Weekly, The Sun, Beliefnet, CBN's 700 Club and Life Today with James Robison, among others. He is also sharing the message outside of the printed book with DVD, eBook, and audio format offerings.
For more information, please visit http://jesusisbook.com/.
About Thomas Nelson, Inc.
Thomas Nelson, Inc., part of HarperCollins Christian Publishing, is a world leading provider of Christian content and has been providing readers with quality inspirational product for more than 200 years. The publishing group provides multiple formats of award-winning Bibles, books, gift books, cookbooks, curriculum and digital content, with distribution of its products in more than 100 countries. Thomas Nelson, is headquartered in Nashville, TN with additional offices in Plano, TX. For additional information, please visit www.thomasnelsoncorporate.com.
About Judah Smith
Judah Smith and his wife, Chelsea, are the lead pastors of The City Church in Seattle, Washington. They were youth ministry pastors for ten years-ranked as one of the top five "most dynamic" youth groups in the country by Ministry Today-before stepping into their new role in 2009. Outreach has recognized City Church as being one of the fastest growing churches in the country. It has four satellite locations orbiting the Seattle, WA metropolitan area. Judah is in high demand as speaker, both in the U.S. and abroad, is the author of several books including Jesus Is ___., and is a popular voice on Twitter (@judahsmith). Judah and Chelsea have three children: Zion, Eliott, and Grace.