K-LOVE & AIR1 NETWORK AWARDED BY NRB WITH
THE BILLY GRAHAM AWARD FOR EXCELLENCE IN CHRISTIAN COMMUNICATIONS

NEWS SOURCE: Merge PR
March 19, 2013
19 March 2013 - Franklin, Tenn - The K-LOVE and Air1 Radio Networks was recently presented with the National Radio Broadcasters (NRB) Billy Graham Award for Excellence in Christian Communications. They received the prestigious honor during NRB's Awards Dinner, which was held last week in Nashville at the NRB 2013 Convention & Exposition.
According to Mike Novak, President/CEO of the K-LOVE and Air1 Radio Network, "When your name is mentioned in the same breath as Billy Graham, it's humbling to say the least. In addition, to have the National Religious Broadcasters recognize the efforts of K-LOVE and Air1 is such an honor."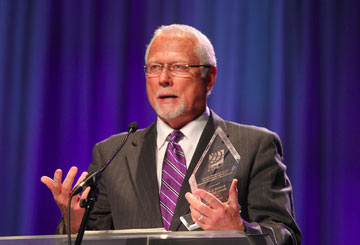 K-LOVE/Air1 President and CEO Mike Novak, recieving the award from NRB
As previously reported from NRB, The Billy Graham Award for Excellence in Christian Communications is named after the best-known broadcaster, pastor, and evangelist of his era. It is presented by NRB every year to a Christian organization that effectively and creatively uses multiple electronic media technologies in fulfillment of its mission, while maintaining fidelity to the message of love, redemption, and hope found in the Holy Scriptures.
"Over radio, the Internet and other select targeted media, the K-LOVE & Air1 Networks have endeavored to effectively communicate the Gospel and to encourage their listeners in their walk with Christ," noted NRB President & CEO Dr. Frank Wright. "For the networks, it's not just about the music; it's about the message and the ministry."
With a weekly audience of more than 14 million, K-LOVE and Air1 are committed to utilizing all forms of technology to share the Gospel message of Christ. Every day, they are building solid relationships with listeners in cities including New York, Los Angeles, Chicago, San Francisco and Houston, and having a major impact in their spiritual lives. Their websites, KLOVE.com and Air1.com, are some of the most heavily trafficked websites in the country.
Moreover, their eight full-time pastors receive more than 52,000 prayer requests every month, and are available to serve listeners' needs every hour of every day.
# # #
ABOUT K-LOVE
K-LOVE plays positive, encouraging contemporary Christian music with a message designed to draw people toward an authentic relationship with God while living out real life in the real world. The radio network has 446 signals in 47 states with an estimated weekly audience of 14 million. Now with their first-ever Fan Awards, their mission is to create a unique and fun fan experience that celebrates and promotes artists, athletes, authors and entertainers, who, with excellence, engage and impact popular culture for Jesus Christ.