LARA LANDON AND MAGELLAN TEAM UP FOR ELECTRONIC WORSHIP PROJECT
New Frontiers Available Via Digital Music Outlets March 26; Album Picked Up by SpiritFit Music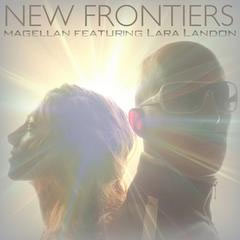 NEWS SOURCE: Savvy Media
March 19, 2013
(NASHVILLE, Tenn.) March 19, 2013 -- Burgeoning singer/songwriter Lara Landon and esteemed producer, writer, and musician Magellan have teamed up for an electronic worship album, New Frontiers. The project, which has already been adopted by SpiritFit Music -- providing Christian music for personal workouts and fitness instructors -- will be available at all digital music outlets March 26.
Having previously worked together, Landon and Magellan first embarked on this latest venture nearly two years ago. Magellan, who had lived in Europe for a year where he was exposed to club music's popularity, saw a hole in the arena of modern worship music. Endeavoring to combine dance/electronic music, one of the fastest-growing music movements today, with hymns and scriptures for a "new sound" that would reach this generation in a new and relevant way, New Frontiers was born.
Magellan, who spear-headed the album, comments in a recent interview with Youth Leaders Only magazine, "It's funny to think that just a mere 40 or 50 years ago the thought of a 'rock' band leading worship at a church would have seemed both unnerving and a bit like science fiction. I like to think that electronic music is also on this same path. Where initially it will be looked upon as possibly potentially inappropriate and for sure a lot like science fiction. ... I am crazy enough to believe that God wants to do something new, fresh, and way out of the box."
Landon comments about being asked to write and record on New Frontiers, "I loved making this album -- the poignant and thoughtful lyrics of hymns and the power of using scripture. Combining such age old truths with modern beats and sounds was really fun. I'm so glad Magellan had the idea for this project and asked me to be involved."
The duo plans to debut its "worship electronica" at festivals where young people can truly be moved by the music and brought into the presence of God. Simultaneously, the CD will be available on iTunes and via other digital retailers as well as through SpiritFit Music (www.spiritfitmusic.com).
SpiritFit Music founder Eric Nordoff comments, "I've had the opportunity to work with Lara and Paul for many years now. They are the real deal. I'm very eager to share their talent with our customers -- lovers of Jesus and edifying music for workouts!"
For more information and to sample tracks from New Frontiers, visit: www.newfrontiersworship.com.
About Magellan
Magellan, also known as Paul Buono, is a writer, musician, and producer of many genres of music. He was thrown into a crash course of electronic music production during his time in Europe and has brought that back to the United States in a series of worship albums released worldwide through GoGlobal Entertainment. Buono has produced more than 100 records throughout the last 15 years and written or co-written more than 250 published songs.
About Lara Landon
A California native, singer/songwriter Lara Landon moved to Nashville in her late teens, where she studied music at Belmont University's acclaimed School of Music. Upon graduation, the songstress signed with newly formed Nashville-based label Bema Media, launched by industry veteran and Essential Records founder Robert Beeson. She released her national debut project, Beloved, in September of 2009 to critical and commercial success. The project featured an all-star line-up, including production by GRAMMY Award-winning talent Michael Omartian (Amy Grant, Chicago, Rod Stewart, The Jackson's, Whitney Houston) and co-writes with Omartian, five-time SESAC Christian music Songwriter of the Year Jason Ingram as well as Dove Award-winning artist Plumb, among others. Beloved turned out the popular radio single "Closer," which was No. 1 on the Family Life Radio network, and afforded Landon touring opportunities across the country.
Landon's latest solo project, Overcome, released May 1, 2012 to widespread critical acclaim. The project was named among the best Christian albums of 2012 on iTunes and received high marks by media outlets including ChristianityToday.com and New Release Tuesday.
In addition to her music ministry, Landon serves as co-founder of non-profit organization New Reality International, which seeks to provide physical, emotional and spiritual healing to those suffering from extreme poverty, disease and injustice worldwide (www.newrealityinternational.org). She is also a featured speaker and artist for KINDLE, a special Christian music and leadership experience that inspires women from every generation to come together to celebrate their talents, prepare for service and faithfully live out The Great Commission.
To find out more about Lara Landon, visit www.laralandononline.com, www.facebook.com/laralandonmusic, or www.laralandon.blogspot.com. Also, follow Landon on Twitter at http://twitter.com/#!/laralandon.
# # #