Press Play Putting The Finishing Touches On Their New Album Coming Out This Fall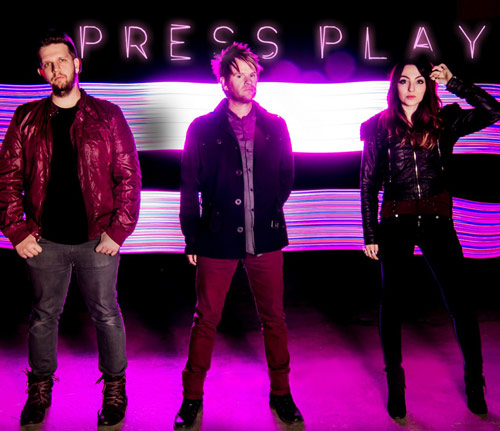 NEWS SOURCE: Sparrow Records
March 28, 2013
Los Angeles, CA (March, 2013) - Southern California's PRESS PLAY have recently completed tracking their new album which will be released this coming September on DREAM Records. The album was recorded at 3 Studios in Lakeville, MN with producers David Thulin, Dave Hanley and Jonathan Thulin. The new studio album will be the band's fourth full length album with DREAM, following 2011?s critically acclaimed World Anthem.
PRESS PLAY will hit the road throughout the rest of the spring and summer times playing a series of dates including shows at Spirit West Coast in Monterey, CA as well as dates with Hawk Nelson, Silverline and Steve Hare(dates below) and soon will announce their BIG HEADLINING fall tour plans.
"We had a lot of fun writing this record. We moved our lives to a secluded area in Minnesota and wrote off and recorded all in one sitting for a couple of weeks. We really pushed ourselves to do something really different while expanding on what we've done in the past. We set the bar really high for ourselves and once that time came around to putting the album together we discovered that the record was effortless to make thanks to God. We can't wait to share it with the world and we hope to be showing you new songs and getting our fans involved all over again similar to the NY2LA days on this album," explains PRESS PLAY lead vocalist Dave Hanley.
PRESS PLAY released their their third studio album, World Anthem, to critical acclaim in September, 2011 on DREAM. The band from Los Angeles has previously released two records prior to World Anthem, the ever popular albums, Life Is Beautiful and NY2LA. The Dove Award-nominated band is known for their electronic dance rhythms mixed with their incredibly heartfelt and positive message which will once again be delivered on their upcoming release.
PRESS PLAY TOUR DATES
April 17 - Costa Mesa, CA - Mariner's Christian School (w/Hawk Nelson)
April 20 - Mesa, AZ - Living Word Church (w/Silverline)
April 21 - Mesa, AZ - Living Word Church (w/Silverline)
May 3- Newark, DE - Faith City Family Church (w/Steve Hare)
May 4 - Newark, DE - Faith City Family Church (w/Steve Hare)
May 17th - Caronport, Canada - Briercrest Bible College
June 29 - Forest Falls, CA - Cross Word Youth Conference
August 1 - Monterey, CA - Spirit West Coast (w/Newsboys, Tenth Ave North, Jeremy Camp)
August 2 - Monterey, CA - Spirit West Coast (w/Newsboys, Tenth Ave North, Jeremy Camp)
PRESS PLAY LINKS
www.dreamrecords.org/artists/pressplay
www.instagram.com/pressplayofficial
www.facebook.com/thisispressplay
www.twitter.com/thisispressplay
For more information about PRESS PLAY and to order the their albums head on over to iTunes and DreamRecords.org
ABOUT DREAM RECORDS
DREAM was founded in 2008 to provide artists with a genuine approach to how real artist development should be done. By allowing for a partnership as a business model, Dream's artists empower themselves to develop and carry out a real vision for their lives as they affect other people's lives with their music and message. Incorporating social media, press, radio and touring it's allowing it's artists grow together as a family.
ABOUT PRESS PLAY
The Southern Californian act started back in 2000 by frontman & founder, Dave Hanley. After releasing their debut album on DREAM with Life Is Beautiful and their follow up, NY2LA charting 1 on the Christian Billboard Charts and multiple tours, the electronic dance pop group, quickly made a name for themselves. After several tours playing in front of thousands of people and having multiple chart toppings on the Hot AC / CHR National Audience Charts, the group is adding to their highly successful careers.
# # #
For more info on Press Play visit the JFH Artists Database.