MARTIN SMITH'S FIRST SOLO ALBUM, GOD'S GREAT DANCE FLOOR, STEP 01,
AVAILABLE FOR PREORDER NOW
iTunes® Preorder Includes Four Bonus Tracks, Instant Download of Radio Single;
LifeWay Offers Exclusive EP with Preorder

"Back To The Start (God's Great Dance Floor)" Gaining Traction At Radio Nationally

Five-Star Rated Album Available April 23 Marks Musical Rebirth For Former Delirious? Frontman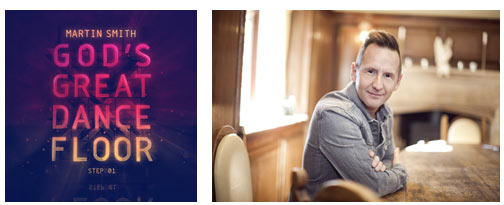 NEWS SOURCE: Hoganson Media
April 11, 2013
The first full-length solo debut from Martin Smith, God's Great Dance Floor, Step 01, is set to release April 23 amidst five-star acclaim. Leading up to the release of the album, iTunes® and LifeWay Christian Stores are both offering significant, exclusive pre-buy offers for this collection of personal revival songs from the former Delirious? frontman, co-founder and primary songwriter.
Born out of a reinvigorated season of living in community with everyday believers, Martin's God's Great Dance Floor, Step 01 can be purchased now at iTunes. With a compelling pre-sell feature on the site, the digital provider is offering those who pre-buy the album four exclusive bonus tracks plus an instant download of the single, "Back To The Start (God's Great Dance Floor)." The bonus tracks include an acoustic version of the new Martin Smith / Chris Tomlin penned song "Waiting Here for You," an acoustic version of the classic Delirious? hit "Obsession," another classic Delirious? song "Jesus Blood," and "Fill My Cup," which was featured on the Martin Smith-driven, multi-artist charity CD/DVD CompassionArt: Creating Freedom From Poverty.
When the album is bought at LifeWay Christian Stores prior to the April 23 street date, buyers will receive a free exclusive EP (in stores only) that features new acoustic versions of the classic Delirious? songs "I Could Sing of Your Love Forever" and "History Maker." They will also receive the new radio hit, "Back To The Start (God's Great Dance Floor)," which is already gaining spins at KTIS (Minneapolis/St. Paul), WJQK (Grand Rapids, MI), WBSN (New Orleans), WQME (Indianapolis), WCLN (Fayetteville, NC) and more stations nationally.
"When you listen to Martin Smith's 'Back to the Start,' it's like being a kid...and finding a surprise at the bottom of a Cracker Jack box," says Keith Stevens, KTIS program director. "The surprise being that worship turns into a party. After a long winter, I think the Twin Cities are ready to dance."
"Back To The Start (God's Great Dance Floor)," co-written by Martin and 2013 GRAMMY winner Jonas Myrin ("10,000 Reasons (Bless The Lord)"), sets the tone for the record, building from a hard reality to a full-on pop dance celebration, complete with brass horns. "It's a prodigal song about finding my way back to everything that matters most; finding God in it all again," Martin says. His very personal story is beautifully portrayed in the song's new concept video featuring Martin's teenage daughter, Elle, in the lead role. Premiering on RELEVANT Magazine as their "Video of the Day," adding soon to GMC TV and being seen now on dozens of outlets internationally, every nuance of the video is intentional as it unfolds Martin's story.
A welcoming invitation to prodigals and faithful alike, God's Great Dance Floor, Step 01 (and Step 02, slated to release October 2013) is a reminder that God's grace is for everyone. From the opening strains of "Awake My Soul," longtime Delirious? fans will hear the clarion call of Martin's voice, strong as ever, declaring a resurrection of his soul.
As music fans are sharing 5-star reviews on iTunes, the critics have been agreeing that this is one album not to miss. With upcoming coverage in Charisma, Worship Leader and more, the current CCM Magazine Martin Smith feature says God's Great Dance Floor, Step 01 "marries the spiritual maturation that comes forth in the lyrics within a wonderfully harmonious intersect." In its five-star review, LouderThanTheMusic.com says, "Martin has managed to capture some of the creative spark that set Delirious? apart from other bands, whilst still setting a new direction on his journey of reflection and rediscovery." Surrender Magazine calls the songs "fun and powerful" as Alpha Omega News' reviewer beckons, "I need someone who has something to say; something that touches my heart, my soul, my very being...Welcome back Martin Smith. A great record and a great return - this is one of my choices for record of the year."
With many of the songs written in collaboration with young worship leaders and novice musicians at his church, St. Peter's - a Holy Trinity Brompton church plant, God's Great Dance Floor, Step 01 is a joyful labor of love for this seasoned songwriter/worship leader. In addition to the radio and video single, the album features the modern rock anthem "Fire Never Sleeps," which opens the recent, critically acclaimed Jesus Culture With Martin Smith: Live From New York album, the contemplative ballad, "Catch Every Teardrop," which was inspired by Psalm 52 and the near fatal car crash that almost claimed Martin's life - a pivotal event that led to the formation of Delirious? back in 1997, and "You Carry Me," a song of comfort for a friend whose husband recently died. Martin also co-wrote four songs with Chris Tomlin, including "Waiting Here For You" with its message of the fragility of our humanity and how waiting is perhaps the most difficult act of worship.
When Martin and his band Delirious? emerged in the U.S. back in 1997, having already impacted a generation of UK youth with its passionate call for revival, most agree that the modern worship movement officially began. The hope of that movement and the music that came out of it-"I Could Sing of Your Love Forever," "Deeper," "Did You Feel The Mountains Tremble?," "Shout To The North" and a string of other modern worship standards-has irrevocably changed the landscape of Christian music in the U.S. and around the world. Long before 2009's farewell concert, RIAA certified Gold-selling and GRAMMY nominated band Delirious? had become a self-fulfilling prophecy. Like their song "History Maker" that landed on 1998's King of Fools, the band became 'history makers' themselves.
Still making relevant music, Martin's God's Great Dance Floor, Step 01 springs from a man refreshed, revived and reconnected with Jesus and with his Church. Excited to play a lead role in the ongoing call to worship, he is a passionate model for young worship leaders of today.
###