BRANDY ALLISON IS 'WALKIN' ON FAITH' WITH DEBUT EP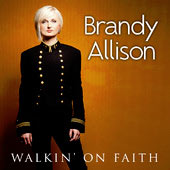 NEWS SOURCE: Turning Point PR
June 4, 2013
NASHVILLE, Tenn.—Walkin' On Faith, the debut from Salvation Road recording artist Brandy Allison, bows today on iTunes.
Produced by Mark Liggett (New Kids on the Block, Blessid Union of Souls) and Jerry Lane (Blessid Union of Souls, Shanice), the six-song EP features "My Hallelujah," aBillboard Top 10 Soft AC hit and one of Christian Music Weekly's Top 40 Inspirational songs of 2012. In addition, the project's title-cut and current single, "Walkin' On Faith," holds special meaning for Allison following the death of her husband in a motorcycle accident nearly three years ago.
"Each song is a conversation, something I have to sing about, something I've experienced on this road to healing," Allison says. "Even though God has done this amazing thing in my life, I still have struggles. I still have to surrender my worries and fears every day, to put everything in God's hands and believe that He is enough. This is my story, today and always."
"Everything that has happened in my life has been God's design," she continues. "And if I can be a voice that says, 'with God's love and mercy you can overcome anything,' it will be worth all I've been through."
Last month Allison joined GRAMMY® and Dove Award-winning Artist of The Year Jason Crabb, along with acclaimed worship artist Jon Bauer, Blessid Union of Souls' Eliot Sloan, and new artists Kelsi Craig and Allan Scott for the "All Access RV Tour" of Christian radio stations throughout the South and Midwest. Among other leading outlets, the "All Access RV Tour" visited American Family Radio (AFR), Faith Radio Network, and Dallas' KLTY and KCBI.
For further information, visit www.brandyallison.com