RIGHTEOUS VENDETTA LAUNCHES GROUPEES CHARITY CAMPAIGN TO HELP FEED THE HUNGRY
U.S. tour with HURT in full swing, new record on the way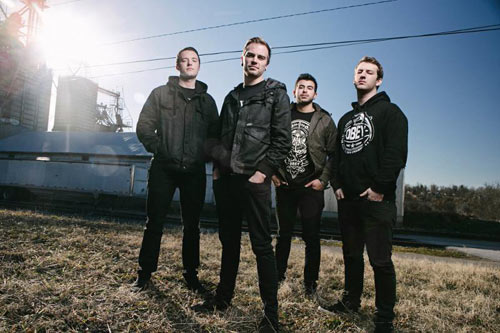 NEWS SOURCE: Fresno Media
June 11, 2013
CODY, WYOMING - Wyoming rock/metal act on the rise, Righteous Vendetta, has teamed up with Groupees for a charity campaign to benefit LeSEA Global Feed the Hungry (www.feedthehungry.org). For one week only, fans can download three Righteous Vendetta releases - Lawless, 'Vol. 1' EP and The Dawning - for a minimum $2 donation, with a portion of the proceeds going to the charity. Get great music and support LeSEA Global Feed the Hungry at: http://groupees.com/rv.
Righteous Vendetta is currently forging the country with Virginia rock quartet, HURT. Checking in from the band's recent stop in San Antonio, Texas, vocalist Ryan Hayes has issued the following statement to fans:
"It has been an honor to share the stage with Smile Empty Soul and HURT for the past month, and we are excited to be spending the following three weeks finishing the tour-dates with HURT. Keep checking our Facebook: www.facebook.com/righteousvendetta for updated shows; we can't wait to see all of you on the road!"
A full list of confirmed tour-dates can be seen below.
For many in the heavy music scene, Righteous Vendetta needs little introduction. With two full-length records under its belt, along with numerous tours totaling over 800 shows worldwide, Righteous Vendetta has amassed fans in the U.S. and abroad.
While trekking the globe, the Wyoming quintet's single, "This Pain," spent 15 weeks in the top 20 on Billboard's Christian Rock chart, achieving commercial success rarely seen by a band that cut its teeth in the hardcore and metal scene.
Righteous Vendetta's latest effort, 'Vol. 1' EP, dropped earlier this year, with a third full-length slated to release this summer.
Check out the music video for "The Fire Inside," taken from the EP, at: http://youtu.be/Qv-DekcmbpY.
Stay tuned for more information on Righteous Vendetta.
Righteous Vendetta w/ HURT...
6/11 - Denver, CO @ Herman's Hideaway
6/12 - Colorado Springs, CO @ Sunshine Studios
6/13 - Kearney, NE @ Shooters
6/15 - Algona, IA @ The Afterlife Lounge
6/16 - Des Moines, IA @ Wooly's
6/18 - Minneapolis, MN @ PVOS
6/19 - Steger, IL @ Another Hole In The Wall
6/20 - Indianapolis, IN @ Beale Street
6/21 - Flint, MI @ The Machine Shop
Righteous Vendetta online...
www.facebook.com/righteousvendetta
www.righteousvendetta.com
www.youtube.com/user/RighteousVendetta
Righteous Vendetta is...
Ryan Hayes - Vocals
Justin Olmstead - Guitar
Isaiah Perez - Drums
Carl Heiman - Guitar