CHERI KEAGGY SET TO PERFORM
ON TBN'S PRAISE THE LORD
Dove Award-Winning Singer/Songwriter's Appearance To Be Featured On Friday's Episode Of Popular TV Show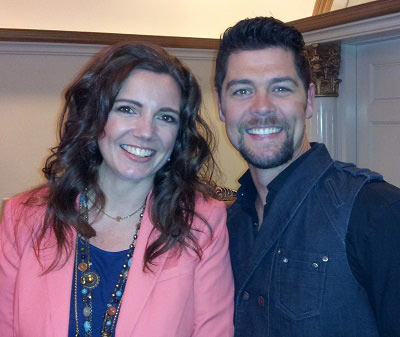 Cheri Keaggy, left, chats with show host Jason Crabb, right, before the taping of TBN's Praise the Lord. (McCain & Co. Public Relations photo)
NEWS SOURCE: McCain & Co. PR
June 13, 2013
NASHVILLE, Tenn. (June 13, 2013) - Dove Award-winning singer/songwriter Cheri Keaggy will be a guest on the Friday, June 14, episode of TBN's Praise the Lord, which is scheduled to air at 9 p.m. C.T./7 p.m. P.T. The show, hosted by Jason Crabb, was taped in front of a studio audience at TBN's Nashville studio. In addition to her interview with Crabb, Keaggy performed the title track from her current CD, So I Can Tell, accompanying herself at piano, along with a performance of the song "There Will Be One Day."
"It was great to appear on the Praise the Lord program again and perform for a live audience," Keaggy says. "I saw people lifting their hands in praise during 'There Will Be One Day.' I love knowing my music and testimony will be going out to millions of people. Not bad for a day's work. Thank you, TBN!"
Other guests featured on Friday's show will include recording artists Terry Warren and the McCrary Sisters, as well as iShine creator Robert Beeson.
Following Friday's broadcast, the segment will be archived online at tbn.org/index/ptl (all broadcasts are subject to change without notice).
So I Can Tell is available on Psalm 91 Records. For more information about Keaggy and So I Can Tell, visit cherikeaggy.com.
About Praise the Lord:
The award-winning Praise the Lord program has been on each weeknight for more than 30 years, bringing together well-known celebrities, singers, musicians, evangelists and laypersons for interviews and performances. The program is produced by TBN, the world's largest Christian television network. TBN is featured on more than 5,000 television stations, 33 satellites, the Internet and thousands of cable systems, reaching millions of homes in the U.S. and around the world. For more information, to locate a station or to watch the show online, visit tbn.org.
About Cheri Keaggy:
Cheri Keaggy began her career as a worship leader at a small church in Southern California before recording her debut album on Sparrow Records, Child of the Father, in 1994. Honored with a Dove Award nomination for New Artist of the Year, Keaggy has gone on to record seven additional albums, resulting in nine No. 1 songs, three Dove Award nominations and a Dove Award win. After more than two decades in music, her ministry has expanded to include speaking engagements as well.
Keaggy's latest release, So I Can Tell, which was released in 2012 on her Psalm 91 record label, is Keaggy's first CD since her independent 2007 release, Because He First Loved Us. Under the guidance of Gospel Music Hall of Famer and legendary guitarist Phil Keaggy, Cheri Keaggy called on the combined talents of Scott Dente and Ken Lewis from Global Genius Productions to produce So I Can Tell. The combination of rich, acoustic sounds with Cheri Keaggy's signature plaintive vocals and searingly honest lyrics has resulted in a project that confronts life's realities, even when filled with despair, and offers listeners the way to navigate through the challenges to a place of hope through Christ.
Penned following the end of her nearly 23-year marriage to her high school sweetheart, So I Can Tell is a testimony of God's goodness in the midst of pain and suffering. Like a modern day psalmist, Keaggy's lyrics express grief, loneliness, and God's comfort in the contemporary hymns "Bind Me To You," "There Will Be One Day" and the arresting "Hello, God." She echoes the apostle Paul in the memorable piano ballad "To Live is Christ" and celebrates Christ's provision in the ukulele-based crowd favorite "Air, Food, and Water."
Through an accessible folk-pop presentation, the album leaves listeners with a renewed sense that God is with us, no matter what. So I Can Tell is filled with the radio-ready songs for which Keaggy is known and loved. Her lush vocals lovingly caress piano ballads like the title cut and the haunting "When You Were Jesus To Me." Her voice takes on a lilting quality in the hope-infused "Starting a New Year Today," written on the one-year anniversary of her divorce. As an added bonus, guitar maestro Phil Keaggy closes the album with the peace-evoking benediction "Postlude: Invitation to Hope."
For more information about Keaggy and So I Can Tell, visit cherikeaggy.com. Like Keaggy on Facebook (facebook.com/CheriKeaggy) or follow her on Twitter (@cherikeaggy). For information about booking Keaggy for an event or conference, visit NewHopeManagement.com