PASTOR AND AUTHOR JEFF SCHREVE HARNESSES
RUNAWAY EMOTIONS FOR GREATER GOOD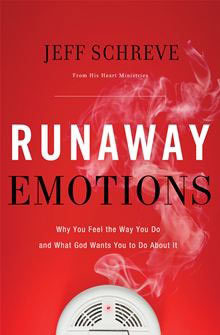 NEWS SOURCE: Turning Point PR
June 17, 2013
NASHVILLE, Tenn.-Anger. Depression. Loneliness. Guilt. These are emotions that powerfully affect our lives. We find them hopelessly undesirable-but God wants to use them for good. In his book Runaway Emotions: Why You Feel the Way You Do and What God Wants You to Do About it, seasoned pastor Jeff Schreve writes about the power of negative human emotions and God's desire to use those feelings for joyous, abundant living.
Schreve's book is divided into chapters focused on the eight most common negative emotions. He talks readers through the process of identifying and understanding the source of each. With Bible-based insight, readers learn how to trust God's plan in using each emotion for spiritual growth.
"Unfortunately, as fallen human beings, living in a fallen world, we aren't given the privilege to pick and choose which emotions we will experience in our lives," writes Schreve. "We appreciate and value all the joy, love, laughter, peace, and wonder we can wrap our arms around. But thenů we also have to deal with the dark side of the emotional spectrum."
"Even those emotions-the darker and more difficult ones-are important. In fact, they reveal a great deal about who we are and where we are in life," he continues.
Schreve is well-acquainted with the negative emotions of life. He is the founder of From His Heart Ministries, an organization that exists to lead hurting people and those who feel hopeless into a genuine love relationship with Jesus Christ. Runaway Emotions is a straightforward and comprehensive handbook for those who feel hurting and hopeless-and for all people struggling to cope with the tough emotions of a broken world.
Schreve's message is warm and real: the Bible makes sense of our confusion, and in the truth of the Holy Spirit we find freedom and peace in the midst of crisis.
Runaway Emotions will be available July 2 and is published by Thomas Nelson, Inc.
About the author:
Jeff Schreve passionately communicates God's Word to connect people with Jesus Christ and His love and plan for their lives. He is pastor of First Baptist Texarkana and founder of From His Heart Ministries, a national and international radio and television ministry. Schreve holds a bachelor's in Business Administration from the University of Texas (Austin) and a Master of Divinity from Southwestern Baptist Theological Seminary. He and his wife, Debbie, have three daughters, one son-in-law, and one granddaughter.
For further information, visit www.thomasnelson.com, www.fromhisheart.org