Michael Davis And Associates Welcomes
Red Roots
To The Dominion Agency Roster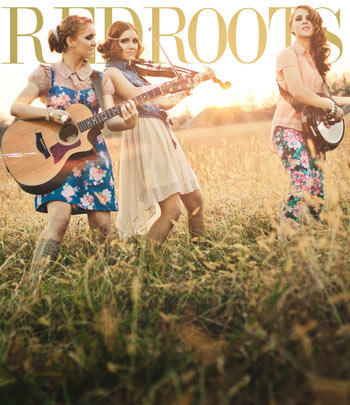 NEWS SOURCE: Vertical Sky Media
June 18, 2013
Waynesville, NC (June 18th, 2013) - Christian music's premiere and multi-faceted booking agency, Michael Davis And Associates, is thrilled to welcome America's favorite trio of triplets, Red Roots, to the Dominion Agency.
The trio, which is signed to the Red Hen division of Daywind Records, continues to take the world by storm, winning hearts everywhere through their great Christian music and endearing personalities.
They've been nominated for numerous awards, been on a major National television program (as contestants on the American Bible Challenge with Jeff Foxworthy), recorded multiple albums and music videos, and had HIT singles, which have appeared consistently in the top 20 in the Nation. Their heart for ministry and love for people continues to pave the way for opportunities that are growing even faster than they are.
Michael Davis, Owner and President of Michael Davis And Associates, expresses his excitement in the latest addition to the Dominion Agency family; "Committed, exciting, talented and focused - This describes my observation of Red Roots. From my first meeting with Nika, Natalie, and Nicole over three years ago, I knew these lovely young ladies would be successful. I am very glad to have them join our Dominion Agency roster of stellar Artists"
All three sisters are equally grateful to work with America's premiere booking agency. Nicole shares, "Nika, Natalie and I are so excited to be a part of the Dominion Agency. This is an important step for us for so many reasons; First, in having another great part of the team in place to help us with our scheduling and travel and , second, in helping us grow into new areas and meet more awesome people to sing and play for. God's plans for us keep on being bigger and better than anything we ever imagined."
To learn more about Red Roots, visit them at theredroots.com, or on Facebook, at facebook.com/theredroots. You can follow them on twitter at @redroots.
The Dominion Agency is part of a family of stellar talent agencies including-
* Dominion Agency
* Mountain Top Talent
* Blue Ridge Artist Agency
To learn more about all of the artists who call the Dominion Agency home, visit dominionagency.com and michaeldavisandassociates.com.