Unspoken receives thirty first week radio adds with new single
"Lift My Life Up"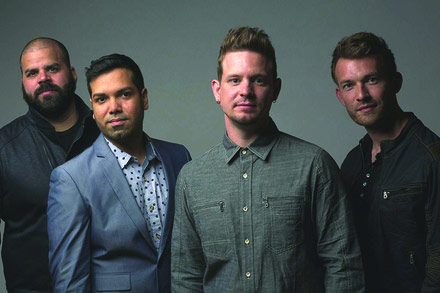 NEWS SOURCE: Bozeman Media
June 20, 2013
Nashville, TN (June 20, 2013) ---- Centricity Music's breakout rock band, Unspoken, has broken the label's record for first week radio adds with their new single, "Lift My Life Up." The follow-up to the band's top 10 hit, "Who You Are," had thirty Christian radio stations adding the song "out of the box." The adds include such major stations as The Fish/Los Angeles, CA; SOS Radio Network/Las Vegas; NV, New Life Media; KTIS/Minneapolis, MN; WCSG/Grand Rapids, MI; WTRJ/Jacksonville, FL. The single is from Unspoken's latest EP, The World Is Waking, which will be available at all digital music outlets June 25th.
"We are thrilled with the success of Lift My Life Up and the first week adds the song received from radio," says Jennifer Allen, Director of National Promotion, Centricity Music. "At the same time, we are so excited that this has become a milestone for the label also, as this is a record number of adds for any artist on the Centricity Music roster. We are very grateful to radio for the support they have shown to Unspoken and their music."
Steve Ford, Vice President of Marketing, Centricity Music, challenged the radio team with a bet of shaving his head if they could achieve 30 adds first week. True to his word, Ford shaved off his hair on Monday of this week at the Centricity offices…..much to the delight of the radio promotion staff.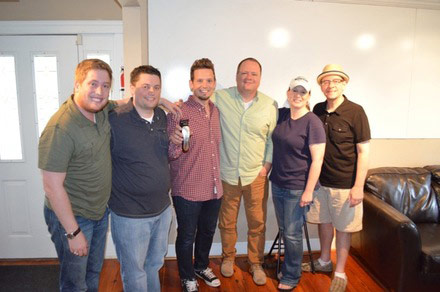 Left to Right: Marshall Macari, Manager of National Promotion, Centricity Music; Kris Love, Director of National Promotion, Centricity Music; Chad Mattson, Unspoken; Steve Ford; Jennifer Allen, Director of National Promotion, Centricity Music; Chris Hauser, Owner, Chris Hauser Promotions
The World Is Waking is Unspoken's second project for Centricity Music with their first project, Get To Me, resulting in the band's first Top Ten hit with, Who You Are. The song's success led to Unspoken touring with Sancus Real this spring on the Promises Tour and the group will join Big Daddy Weave in mid-September on The Only Name Tour. Until then, Unspoken stays busy with a full schedule of solo dates followed by a break in August and early September. The time off will give lead singer Chad Mattson time with his new baby daughter, Edie Malone, who was born May 27, 2013.
About Unspoken
Unspoken is a 4-member band comprised of lead singer Chad Mattson, bassist Jon Lowry (who are both from Maine), guitarist Mike Gomez (Dominican Republic), and drummer Ariel Munoz (Puerto Rico). The group was initially formed in the Dominican Republic when Mattson met Gomez and when the duo returned to the states the pair hooked up with Lowry, Mattson's childhood friend. Munoz joined the band when he met Unspoken at Nashville talent contest. The group has made great strides as an independent artist playing with such high-profile acts as Third Day, David Crowder, Casting Crowns, TobyMac, and Pillar. The band's powerful stage performance was the highlight of Momentum 2012 with artists Jamie Grace, Blanca/Group 1 Crew and Dara Maclean tweeting about the impact of the appearance. For continued updates on Unspoken please visit online at www.unspokenmusic.com and on Twitter @Unspoken.
About Centricity Music
Centricity was founded in 2005 with a commitment to artist development and stylistic diversity. Based in Franklin TN, artists include Jason Gray, Andrew Peterson, Remedy Drive Aaron Shust and Unspoken. The company's mission is to enable their artists to create life-changing experiences for the world. Providing label, management and publishing services, Centricity is a family owned organization and they like it that way.
# # #
For more info on Unspoken visit the JFH Artists Database.