NEW DAY CHRISTIAN DISTRIBUTORS OFFERS POPULAR
DUCK COMMANDER® PRODUCT LINE
Brand a Best-Seller at Christian Retail, New Items Being Introduced Daily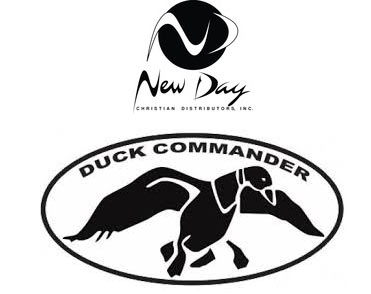 NEWS SOURCE: Savvy Media
June 21, 2013
(NASHVILLE, Tenn.) June 21, 2013-New Day Christian Distributors now counts the wildly popular Duck Commander® line of products among its latest retail offerings. The hit brand, which includes items such as "Uncle Si's Tea Cup," the "Faith, Family, Ducks" t-shirt, souvenir cups, bracelets, mugs and more, has become a best-seller since New Day introduced the line in March, with new products being added daily.
Duck Commander® is both the name of the famous duck call and subsequent multi-million dollar enterprise which produces them and other duck hunting related merchandise. The business is now the subject of A&E reality television series, "Duck Dynasty." The program and overall brand is resonating with audiences and consumers everywhere, including those that comprise the faith-based market.
"Several items in this product line display overtly Christian themes, such as 'Faith, Family, Ducks' or 'Fear God, Love Your Neighbor, Hunt Ducks,' and stores are finding that the Robertson Family's openness about its faith and values are really driving the sales within the Christian market," says New Day's Michael Turner. "More than just product or a TV show, this family lives what it professes and consumers appreciate that."
Randy Maricle, vice president of Parable Group, which offers marketing services to independent Christian retail stores, agrees, "New Day has been bringing CBA major brands for quite a few years, and we have truly landed on one here. I appreciate the Robertson family for their loyalty to CBA. We have all seen celebrity come and go; however, this is a true testament to how a faith-based partnership between New Day, Duck Commander® and Christian retail stores should work."
"We are excited to be partnering with New Day to bring Duck Commander® to Christian retail stores nationwide," says Alan Robertson, the oldest brother in the Robertson clan. "Everywhere we go and speak we talk about faith, family and ducks, in that order! Dad started our business almost 40 years ago with the idea that there is no separation of business from our faith, and we are proud that God is blessing that stand for Him."
In addition, New Day is teaming up with Howard Books to help cross-promote the product line with book releases from the Robertson's, including "The Duck Commander Family" and "Happy, Happy, Happy" as well as several new titles out this fall. Also this fall, New Day will be adding Buck Commander® products, Duck Commander® long sleeve shirts and seasonal items for Christmas.
To find a New Day retail partner near you, visit www.newdaychristian.com.
About New Day Christian Distributors
New Day Christian Distributors is based in Hendersonville, Tenn. and has been a valuable supplier of consumer products-music, DVDs, toys, gifts, books and Bibles-to Christian retail for more than 30 years. Currently the company retains exclusive retail distribution of such top-notch artists as Thousand Foot Krutch, Newworldson, and JJ Heller, among others, and is the primary CBA distributor of brands including Melissa & Doug, Fisher Price as well as Playmobil. For more information on New Day, visit www.newdaychristian.com.
###